Investors Bet on Fresh Stock Volatility Like It's August 2016
(Bloomberg) -- Stocks are calmer these days, but there's one corner of the market where investor nerves are on full display.
So far this month, more than $633 million has poured into U.S.-listed exchange-traded products that benefit from a rise in volatility, putting May on track to be the busiest streak for such inflows since August 2016, according to data compiled by Bloomberg Intelligence.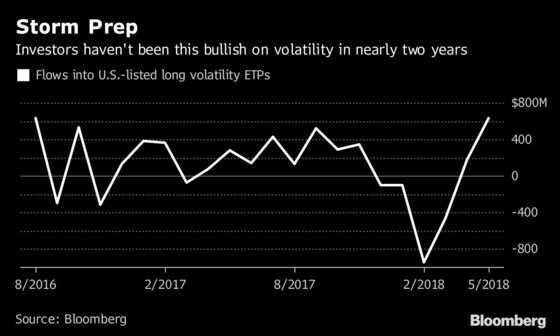 The largest share of that cash -- around $275 million -- has gone to the iPath S&P 500 VIX Short-Term Futures product, a note tracking Cboe Volatility Index futures. Meanwhile, the demise of the short-volatility trade is continuing apace in the passive space, with a negligible $2.1 million added to the strategy in May so far -- even as the bet is capturing speculators again.
The last time investors like mom and pop were punting on price swings like this? August 2016, when the VIX index jumped the following month. Then, just as today, investors fretted over U.S. interest-rate risks and Deutsche Bank AG's earnings woes. Back then, retail folk voted with their feet by piling into VIX ETFs while institutional investors were relatively unruffled as they surrendered hedges.
A similar dynamic of sorts seems to be in play today. For money managers outside the ETF ecosystem, seeking protection against choppy trading appears less compelling while the VIX index trends down toward January levels.
Case in point: hedge funds and other leveraged accounts have flipped back to a net short position on VIX futures, meaning they're wagering on more-muted price swings relative to current levels. That's after the fast-money cohort moved to a long VIX position in March for the first time in two years.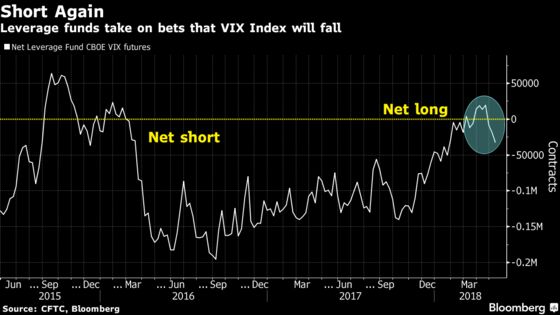 Of course, VIX ETPs have appeal beyond retail. Some institutional investors may be limited in their ability to hold derivatives, and prefer the product for its convenience and liquidity.
In any case, volatility this week has been relatively well behaved.
With "10-year yields surging through 3 percent and dragging the dollar with it, the footprint on the VIX has been minimal," Michael Purves, Weeden & Co.'s chief global strategist, wrote in a note.