Investors Beat May to Brexit in Record Retreat From U.K. Stocks
(Bloomberg) -- The U.K. has yet to leave the European Union, but many stock investors have already said goodbye.
The nation's equity funds have lost $9.8 billion in 2018, on course for the worst year of redemptions on record, according to a Bank of America Merrill Lynch note, which cited EPFR Global data. In the past week through Dec. 12, U.K. stock funds saw an outflow of $1.7 billion, Jefferies Financial Group Inc. said.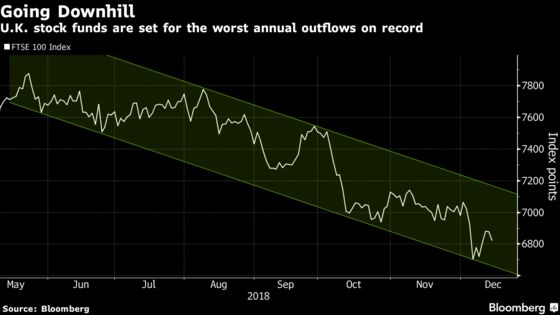 The FTSE 100 Index earlier this month erased its 21st-century advance as the global equity sell-off added to concerns that U.K Prime Minister Theresa May will struggle to get her Brexit plan through the Parliament. This week, investors were shocked by May's cancellation of the Brexit deal vote and a revolt against her leadership of the Conservative Party. The country's benchmark gauge is down 11 percent this year, set for the worst annual decline since 2008.
In the latest dramatic chapter of the Brexit negotiations, European leaders rejected May's pleas to help her sell the deal to a skeptical U.K. Parliament, toughening their stance as they stepped up plans for a chaotic no-deal divorce.