Investors Back European E-Scooter Startups to Rival U.S. Leaders
(Bloomberg) -- European investors are confident it's possible to build a major local competitor to U.S. electric-scooter giants like Bird Rides Inc. and Lime, and the checks are starting to be written.
Stockholm-based Northzone Ventures -- an early investor in Spotify and iZettle, with about 1 billion euros ($1.1 billion) under management -- picked Berlin's Tier Mobility as the one to watch. On Tuesday Northzone said it led an investment round of 25 million euros into the startup, which is already active in Vienna.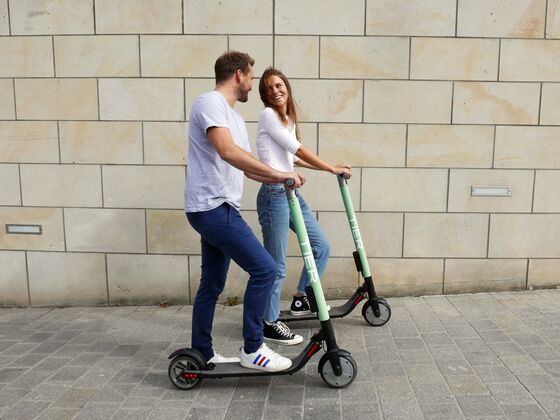 Paul Murphy, a partner at Northzone, said some of Europe's biggest investors are talking to the continent's best contenders as rivals to the U.S. front-runners, which are rapidly expanding throughout the region.
"There's a lot of capital out there," Murphy said in an interview. "We're talking to big players on the growth side that are actively looking at the European companies and deciding which one they want to back."
Electric scooter rental services have exploded in popularity this year, with companies like Bird and Lime attracting investors at a rapid pace. Both companies are less than two years old, but are burning through cash in a race to expand: Despite building war chests worth several hundred million dollars each in the past few months, Bird and Lime are actively looking for new financing again.
Vienna, which has a population of about 1.9 million people, already has competition from Lime, which launched there in September. Murphy said there was still time for a European competitor to grow large enough, and quickly enough, to challenge them.
"Madrid, Paris, even London -- each of those cities can support a public scooter company," he said. "If you win just five or 10 markets, even as the number two or three player, you've got a massive company." Murphy said it's the largest investment in a startup at this stage of its life in Northzone's 22-years as an investor.
The investment in Tier had participation from existing backers Point Nine and SpeedInvest, as well as new Spanish investor Kibo. A spokesman for Northzone declined to comment on how much of the new funding it contributed, or at what valuation.