Investors Are Worrying About the Wrong Plunging Italian Asset
(Bloomberg) -- For all the hand-wringing over the plunge in Italian bonds, investors might be overlooking a greater danger -- the nation's equity market.
The FTSE MIB Index tumbled 1.5 percent Monday, bringing its rout to 5.9 percent in the two weeks since populists agreed to form a governing coalition. The measure slumped below its average price for the past 50 days for the first time since March -- an event that warrants more attention, especially compared with the angst surrounding bonds, argues Bespoke Investment Group.
"The real concern should be Italian equities: Almost half are owned by households, and shenanigans enacting populist policies like those proposed by the Lega-M5S coalition will have a very significant impact there," writes Bespoke. "Importantly, unlike the mid-2000s, this is an entirely avoidable and politically self-inflicted selloff."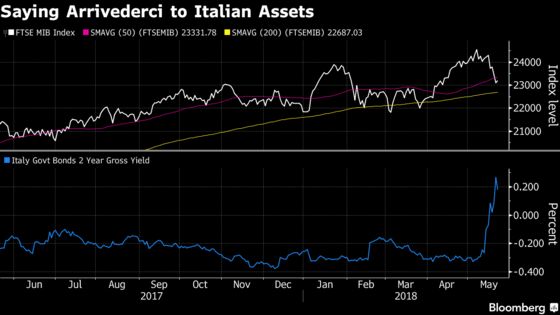 While the recent rout in Italian sovereign debt has seen short-term borrowing costs spike amid the incoming government's plan to boost spending and consider creating what's tantamount to a parallel currency, there's a backstop that's been largely overlooked, Bespoke analysts argue -- the European Central Bank now owns roughly as much Italian debt as domestic banks.
Moreover, the weighted average maturity of Italian debt has been substantially extended over the past four years. That limits how much the surge in yields will feed through into actual debt servicing costs in the near term.
The ripple effects stemming from stock market pain, however, will be broadly shared across domestic households, which own almost half the value of companies listed on the FTSE MIB. That means the swoon in equity prices serves as a direct channel through which households' wealth, sentiment and, in turn, consumption could be battered before long.