Investors Aim to Save Emerging Markets Portfolios With Green Bonds
(Bloomberg) -- As Fridays for Future marches sweep the world, emerging-market investors are snapping up a flood of green bonds to limit their exposure to risk -- and stay on the right side of history.
Countries and companies capable of fulfilling environmental, social and governance criteria for ethical investments are probably more stable and well managed than others, leading to less risk, said David Hauner, a cross-asset strategist at Bank of America in London.
"If you invest in companies, or in my case countries that have better ESG scores, that to some extent protects you from meltdowns or negative surprises," Hauner said.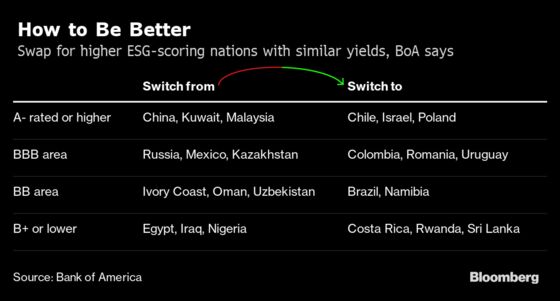 Just today, Bank of China's Macau branch raised 300 million euros from a two-year green bond sale. In the past week, a Kenyan developer priced the equivalent of $41 million in its debut green offering, and Peru announced it was nearing its first sovereign green issuance. Southeast Asian borrowers, meantime, tend to enjoy yields 7 to 15 basis points lower by selling green notes, a study found.
Hauner recommended choosing similarly yielding ESG bonds in Chile or Israel over notes from China or Kuwait with low ESG scores.
"You could argue that at some point, in theory, all investment will be according to ESG criteria," he said. "There's a massive amount of growth still ahead of us."
Nations or companies with higher ESG scores, over the long term, have lower credit spreads, said David Pinto, an emerging-market debt manager at Allianz Global Investors, which has $619 billion under management.
"Focusing on governance helps you avoid defaults," New York-based Pinto said. "That's value."
Allianz excludes the worst-ranking countries from their invest-able universe and keeps other poor ESG nations on a watchlist, he added.
"If a company is doing the right thing on the environmental pillar and the social pillar and the governance pillar, we think that is positive, and that it will lead to long-term, sustainable growth and creditworthiness," Pinto said. "These countries will eventually be rewarded by the market."
In emerging markets especially, ESG analysis can uncover insights not yet priced in by markets, Graham Stock, a senior emerging-market sovereign strategist at BlueBay Asset Management in London, said in a presentation. Social and environmental factors are poorly priced, specifically in the context of climate change, he said.
Global issuance of green debt, which focuses on environmental investing, could reach $350 billion to $400 billion next year, a 60% increase from what's expected for 2019, said Sean Kidney, chief executive officer of the Climate Bonds Initiative in London. Hard currency-denominated green bonds offered by developing-world corporates are among the most sought after, he said.
Issuance worldwide was just $170.9 billion in 2018, according to the investor-focused nonprofit group.
"Investors are saying give me more, give me more," Kidney said in an interview. "There's just not enough product."