Investor Dumps Biggest Junk Bond ETFs as Market Sell-Off Deepens
(Bloomberg) -- At least one investor just called it quits on the world's two largest junk-bond ETFs.
A trader sold close to 4 million shares worth $322 million of the iShares iBoxx High Yield Corporate Bond ETF, ticker HYG, at 11:21 a.m. in New York Thursday. About five minutes later, 8 million shares worth $267 million of the SPDR Bloomberg Barclays High Yield Bond ETF, ticker JNK, were sold. Then, another $350 million worth of HYG was unloaded at 1:39 p.m.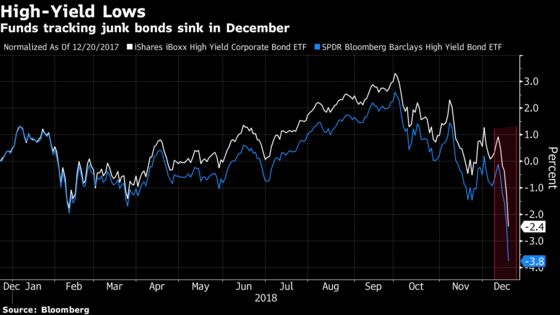 With pressure continuing to build in the credit market, junk bonds aren't a popular place to park cash, according to Josh Lukeman, head of ETF market making for the Americas at Credit Suisse Group AG.
"This is a bid-wanted situation in high-yield credit ETFs," he said. "HYG options are also very active, currently trading 400 percent above their average daily volume, with a 15-to-one put-to-call ratio." The fund, which has declined for five straight days, is down 1.3 percent Thursday to the lowest since February 2016.
A bid-wanted situation is used by a seller who may forgo optimal pricing for the securities in lieu of unloading the position as soon as possible, Lukeman said.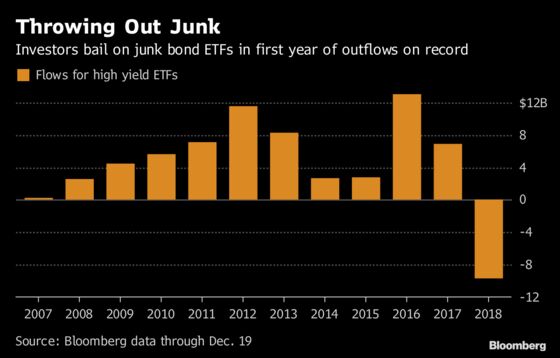 Investors have yanked more than $9.6 billion from U.S.-listed funds tracking the junk market this year, with December on track to be the first ever month of ETF outflows for the category.