Investor Optimism in German Economy Plunges as Risks Add Up
(Bloomberg) -- German investor confidence soured on the back of this month's stock-market selloff and rising concern that global trade tensions will harm economic growth.
ZEW's measure of investor expectations for the region's powerhouse plunged to levels recorded at the height of the debt crisis in 2012, highlighting the magnitude of current uncertainty. A gauge for the euro area also declined.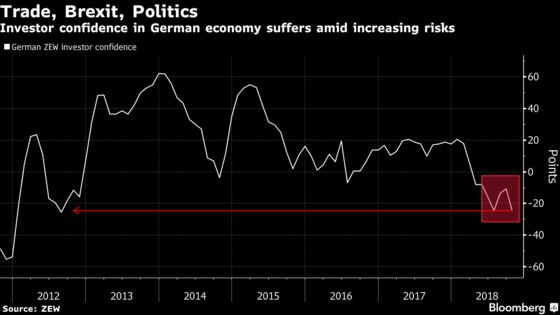 Germany's benchmark DAX Index has plunged 6 percent since the start of the month as political concerns from Italy's budget woes to stalled Brexit talks and U.S. protectionism weighed on sentiment. The International Monetary Fund cut its forecast for the world economy for the first time in two years, and the German government cited a weaker external environment as it lowered its 2018 growth projection.
BMW AG, one of Germany's flagship carmakers, issued its first profit warning in a decade at the end of September, blaming trade conflicts and price competition.
"Expectations for the German economy are dampening above all due to the intensifying trade dispute between the U.S. and China," Achim Wambach, president of the ZEW Center for European Economic Research, said in a statement. "A further negative influence on economic and export expectations is the danger of a 'hard Brexit', which is becoming ever more likely. Last but not least, the situation of the governing coalition in Berlin is perceived to have become more unstable."
Parties from Germany's ruling coalition suffered significant losses in Bavaria's state election over the weekend, raising questions whether Chancellor Angela Merkel's government will last.
| | October | Survey | September |
| --- | --- | --- | --- |
| German expectations | -24.7 | -12.0 | -10.6 |
| German current conditions | 70.1 | 74.4 | 76.0 |
| Euro-area expectations | -19.4 |      n/a | -7.2 |
| Euro-area current conditions | 32.0 |      n/a | 31.7 |
The European Central Bank has signaled that solid domestic demand in the euro area means there's no reason to panic over the economic outlook, even though it acknowledged that dark clouds are gathering. President Mario Draghi said on Saturday after the IMF meetings in Bali, Indonesia, that the key threat facing the global economy was a jump in interest rates sparked by financial instability, inflation surprises or geopolitics.
The Governing Council meets next week for one of its regular policy sessions, six weeks since officials trimmed their growth forecasts through 2019 and stopped short of describing risks to the outlook as tilted to the downside.