Internet Gold Says Searchlight Bid for Bezeq Stake Expired
(Bloomberg) -- Internet Gold-Golden Lines Ltd. said Searchlight Capital Partners LP's offer to buy its controlling stake in Israel's biggest telecom firm is no longer valid.
Searchlight's offer "has expired" and was "significantly lower than those non-binding offers received by the company during the initial bidding process," according to a Tel Aviv bourse filing by Internet Gold on Sunday.
The New York-based hedge fund in January offered 387 million shekels ($106 million) to buy Internet Gold's 65 percent holding in B Communications Ltd., the largest shareholder of Bezeq Israeli Telecommunications Ltd. Added to Internet Gold's available cash, the bid amounted to a 27 percent discount to the value of the company's bonds.
Internet Gold fell 5.2 percent to 1.98 shekels, the lowest level on record, as of 3:02 p.m. in Tel Aviv.
The likelihood that Internet Gold will have to restructure its debt is rising as the company struggles to find a buyer for its main asset. Internet Gold's default risk climbed to a record 11 percent last week, according to calculations by Bloomberg, meaning its securities are trading at distressed levels.
Strong competition in Israel's telecom industry has dragged down Bezeq's profits, bringing its parent companies -- which rely on its dividend payouts to service their debts -- closer to financial collapse. The share losses have accelerated in recent weeks after Bezeq warned of a "significant decline" in earnings stemming from major writedowns, prompting analysts to say that the company may not pay a dividend in the coming two years.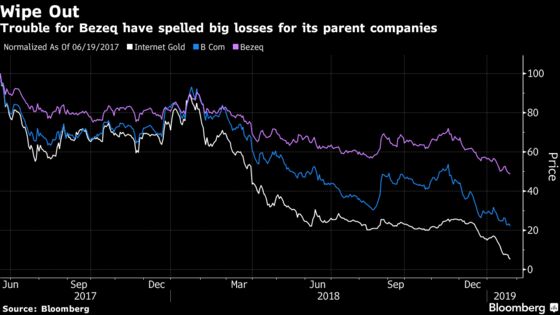 As a result, Bezeq's parent companies have shown signs of increased strain. Internet Gold said it will hold off payments to bondholders and has opened a discussion on how to proceed. B Com raised 118 million shekels in an equity sale last week to provide a cash cushion. Those shares were priced nearly 20 percent below the previous closing price.
(A deckhead in an earlier version of this story was corrected to reflect the proper company name.)