Intel Eyes Best Quarter Since 2003 as Bulls Cheer New CEO
(Bloomberg) -- Intel Corp. shares are on track for their best quarterly performance in years, a reflection of investor optimism for Pat Gelsinger, who took over as the chipmaker's chief executive officer in mid-February.
The announcement of Gelsinger's appointment in January drew raves on Wall Street, and came in the wake of manufacturing delays and other issues that contributed to long-term underperformance in the stock, along with market-share losses to rivals like Advanced Micro Devices Inc. Earlier this month, Intel unveiled a big spending plan designed to regain its lead in manufacturing.
Shares are up nearly 30% over the past three months, which would represent Intel's biggest quarterly percentage gain since the third quarter of 2003, according to data compiled by Bloomberg. The Philadelphia Stock Exchange Semiconductor Index is up about 12% in the first quarter. Intel shares fell 17% over the course of 2020, well below the index's 51% advance.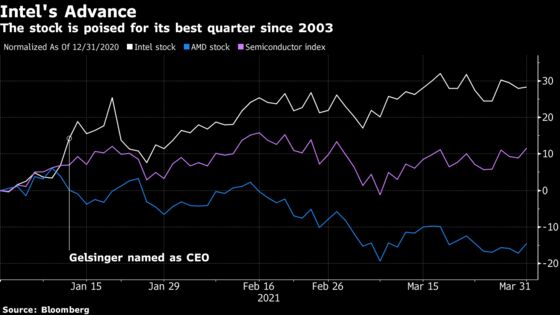 Most of the index's components are positive so far this year, although AMD has been a notable decliner, with the stock down 14%.
Intel rose 0.8% on Wednesday, while the SOX gained 3% and AMD was up 3.3%.
Among chipmakers in the first quarter, Intel's gain was second only to Applied Materials, which soared more than 50% in its biggest quarterly advance since 1999. The maker of chip production equipment, along with peers Lam Research Corp. and KLA Corp., soared amid a supply crunch of semiconductors.
Shares of Applied gained 6.2% on Wednesday while Lam climbed 4.2%. Earlier, Bernstein started coverage on both, giving them outperform ratings. The firm said it has "a positive long-term structural stance" toward semiconductor capital equipment companies.