Insurer Facing $2 Billion Financial Hole Sparks Call for Rescue
(Bloomberg) -- Follow Bloomberg on LINE messenger for all the business news and analysis you need.
Policyholders at Indonesia's state-owned PT Asuransi Jiwasraya are looking to the government to rescue the scandal-hit insurer, which has uncovered a $2 billion hole in its books.
The crisis affects 17,000 buyers of investment products and 7 million clients, and may pose systemic risks, Indonesia's audit board said Wednesday. It stems from "product mispricing, reckless investment activities, aggressive window dressing and liquidity pressure," according to a statement last month from Jiwasraya's new President Director Hexana Tri Sasongko.
The scandal has been unfolding during the past three years, after a 2016 audit revealed violations of investment guidelines. Another audit last year showed the insurer had negative equity of 27.2 trillion rupiah ($1.96 billion), sparking calls for a lifeline.
The government has indicated it may step in, with State-Owned Enterprises Minister Erick Thohir saying recently that a plan is being formulated to "heal" the firm. Insurers in Indonesia don't have the same level of government support accorded to banks.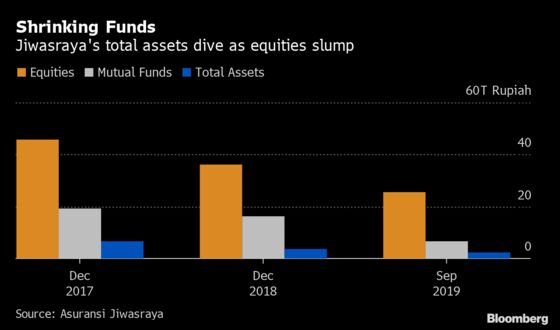 The wider market could face risks as insurance firms shift funds away from less reputable fund managers toward the more solid ones, said Jeffrosenberg Tan, director and head of investment strategy at PT Sinarmas Sekuritas. However he said a prolonged systemic crisis is unlikely.
"It is hard to gauge the extend of the exposure, but the chain of reaction will be short as it doesn't involve the balance sheets of other big third parties and complex derivatives," said Tan.
Read more about crisis at Jiwasraya
Graft in Indonesia's Oldest Insurer May Carry Systemic Risks
Indonesia's Insurance Holding to Help Jiwasraya Restructuring
Indonesia Investigates Corruption in Its Oldest Insurance Firm
Indonesia's Jiwasraya Has No Funds to Pay Maturing Policies
Here are some of the key questions surrounding the Jiwasraya crisis:
The problems at Jiwasraya date back as far as 2006, according to the 2016 audit report. The probe also uncovered alleged irregularities and fraud in the management of its savings and investment plans, which offered guaranteed returns of as high as 13%. Asmawi Syam, the former president director, and the board were ousted by the government in November 2018. Then, another audit last year showed the full scale of the losses, and the company flagged its inability to pay policyholders, leading to calls for a government rescue.
If there is a bailout, what might it look like?
Uncertain. SOE Minister Thohir has talked about the possibility of forming a holding company for state insurers to salvage Jiwasraya, as a direct cash injection by the government may be controversial given the allegations of irregularities. The absence of a regulatory guarantee for investors in the company's products means a direct bailout is difficult, though the government could ask another state-owned firm to take over Jiwasraya.
What should investors watch for next?
The prosecutor has barred 10 people from leaving the country as it probes the irregularities. The investigation should be completed within two months. The shape of any bailout is another key issue. Meanwhile, the insurer has said it may sell its unit Jiwasraya Putra before March, which may raise additional funds.