Paula Abdul Helped Spark a 200% Rally on Wall Street. So What's Next?
(Bloomberg) -- Paula Abdul helped spark enthusiasm for Inmode Ltd. when she signed on as a brand ambassador just days after its lukewarm IPO last August. The singer and American Idol judge jump started a more than 200% rally in the maker of minimally invasive beauty treatments.
But come Tuesday, insiders and early investors get their first chance since the IPO to cash in on their holdings following the expiration of the six-month lockup.
Shares of the Israeli-based company have taken the market by storm after news that Abdul signed on to represent the company just days after the underwhelming IPO.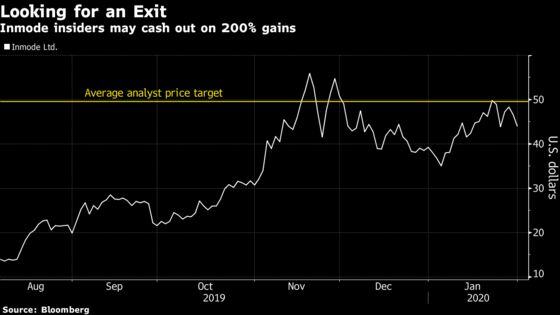 The company's strong start to 2020 had pushed shares past the average analyst price target of $49.50 before the coronavirus scare started rattling the entire stock market, data compiled by Bloomberg show. While Inmode has struggled to regain a November peak, the company's $1.4 billion market value is more than three-times its valuation when it went public.
Short interest has remained elevated since the end of 2019 and sits around 21%, according to data compiled by financial analytics firm S3 Partners.