Industrials Face a Rout With Caterpillar, 3M Sounding Cost Alarms
(Bloomberg) -- U.S. industrials stocks are in for a tough trading day with several bellwethers warning of rising commodity and raw material costs weighing on their outlooks.
Investors are likely to focus on Caterpillar Inc., whose shares plunged as much as 9 percent to its lowest price in more than a year, despite beating earnings expectations for the tenth straight quarter. The construction and mining equipment maker warned of rising manufacturing costs, primarily due to increases in steel prices and tariffs. Growth at the company's construction industries segment also disappointed, with Goldman Sachs analyst Jerry Revich noting that the slowing trends don't bode well for Terex Corp. and Manitowoc Co.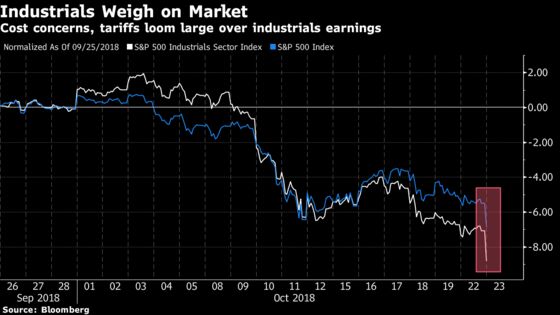 Construction and machinery names weighed heavily on the broader market, with the S&P 500 Construction Machinery & Heavy Truck Index the biggest decliner on the S&P 500.
Diversified industrial manufacturer 3M Co. lowered its profit outlook for the year for the third time, blaming currency exchange rates. Last month, the company had flagged higher raw-material prices, less-favorable currency effects, a slowdown in the health-care business and slower automotive production rates among its challenges.
The tariff-material cost combination also did not spare United Technologies Corp. During its earnings conference call, the company said its Otis unit was facing higher-than-expected material costs. 3M fell 5.9 percent while United Technologies rose 2.1 percent, erasing earlier losses.
The gloom hung heavy on the auto industry as well, after Ford Motor Co. highlighted steep steel prices on Monday, saying President Donald Trump's tariffs have made the metal more expensive in the U.S. than any other market. Ford, General Motors and Fiat Chrysler were all trading lower in New York on Tuesday.