Indonesia Stocks Mark Worst Month in Six Years, Near Bear Market
(Bloomberg) -- Indonesia's equities benchmark capped its steepest monthly slide in more than six years and narrowly avoided entering a so-called bear market amid concerns about the economic impact of the coronavirus that so far hasn't reached the nation.
The Jakarta Composite Index fell 1.5% Friday, after dropping by more than 20% from its February 2018 record high during the day. The gauge lost 8.2% this month, its worst such performance since August 2013.
Foreign investors have sold almost $300 million net of Indonesian shares this week. The rupiah has weakened by 4.1% to the U.S. dollar, while the yield on benchmark 10-year government bonds has risen by more than 36 basis points, according to data compiled by Bloomberg.
"Indonesian stocks are falling along with global equities amid concerns of a global economic slowdown from this outbreak of the coronavirus," said John Teja, who heads sales at PT Ciptadana Sekuritas Asia. "Nothing is spared in Indonesia, even the defensive consumer stocks are getting hit."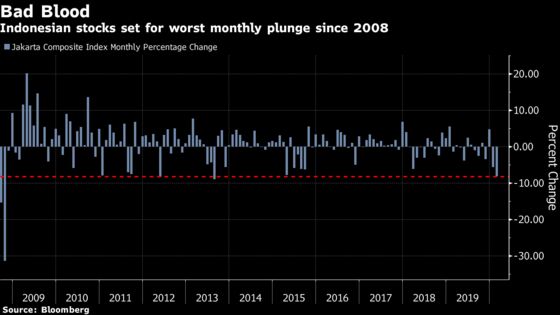 Also read: Bank Indonesia Seeks to Stave Off Worst Market Rout In Years
Shares of consumer-goods company PT Unilever Indonesia fell 4.6%, while PT Astra International dropped 7.1% and PT Indofood Sukses Makmur slipped 5.8%, among the biggest drags on the Jakarta Composite Friday.
With no confirmed coronavirus cases in Indonesia so far and the market's reliance on the domestic economy, the rout in the nation's equities should be nearing an end, according Thendra Crisnanda, head of research at PT MNC Sekuritas.
"The index should reach the bottom between February and March," Crisnanda said. "The impact of the virus on Indonesia isn't significant and our domestic economy will remain resilient. This is a good time for investors to buy as valuation has been low and the dividend season is coming soon."