Indonesian Stocks Pare Losses Amid Jakarta Lockdown Measures
(Bloomberg) -- Indonesian stocks remained volatile on Friday as investors continued to assess the impact of the renewed lockdown measures in Jakarta.
The Jakarta Composite Index erased a loss of as much as 2.8% within first 20 minutes of trading and was down 0.6% as of 9:45 a.m. local time. Banks were the main drags on the index with Bank Central Asia Tbk shares down as much as 3.3%.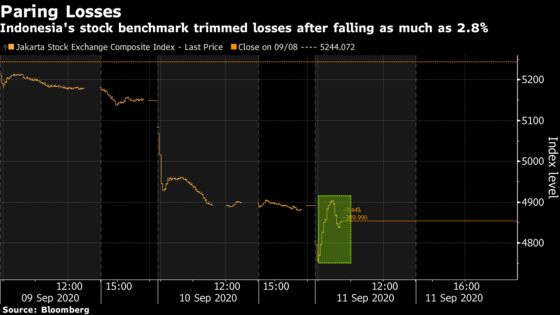 The benchmark plunged 5% on Thursday -- its biggest drop since March -- triggering a brief trading halt on the news of the measures.
"The trimming makes sense because yesterday's decline was an overreaction from the market to Jakarta's social curbs," said Thendra Crisnanda, head of institutional research at MNC Sekuritas. "A rumor spreading in the market about a limited ministerial meeting whether Jakarta will impose a full lockdown or another transition period also helps the sentiment."