Jokowi Slows Spending to Balance Growth With Curbing Deficit
Indonesia has proposed slightly lower state spending next year that aims to support the pandemic-hit economy while maintaining the goal of gradually cutting the fiscal deficit.
The economy is projected to grow 5%-5.5% in 2022, higher than the 3.7%-4.5% forecast for this year, President Joko Widodo said in his budget speech to parliament earlier in the day. Investments and exports are expected to be the main growth drivers, aided by government spending of 2,708.7 trillion ($188.5 billion), slightly lower than the 2,750 trillion rupiah set for this year.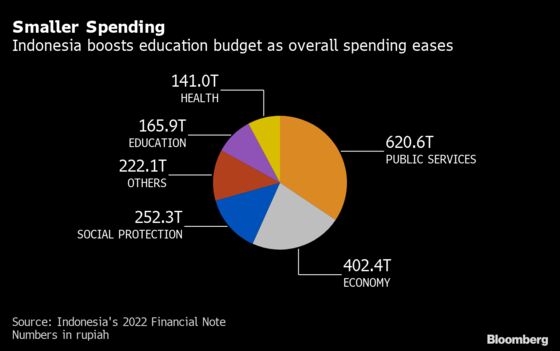 Indonesia faces a delicate balancing act between pushing an economic recovery that's highly dependent on government stimulus and narrowing the budget gap to keep investors' confidence. To help generate more revenue the government aims to expand its tax base, improve taxpayer compliance and optimize its asset management.
"Fiscal consolidation and reforms must continue to be carried out in a comprehensive, gradual and measurable manner," said Jokowi, as the president is known. That includes the "strengthening of state revenues and the improvement of expenditures," as well as prudent fiscal management "that is sounder, more resilient, and able to maintain future economic stability."
Finance Minister Sri Mulyani Indrawati also said the government will work with the central bank to fund its budget deficit next year. "Coordination with Bank Indonesia is going very well in creating credible deficit and development financing," she said late Monday, without elaborating on the details of the arrangement for next year.
The monetary authority has bought 124 trillion rupiah of sovereign bonds in the primary market this year through July 19.
The rupiah posted its first gain Monday since Aug. 4, strengthening 0.1% to 14,373 to the U.S. dollar. The benchmark stock index fell 0.8%.
Indonesia has become the epicenter of the pandemic as the highly transmissible delta variant puts it atop the world's list of daily Covid-19 fatalities. The country has lost more than 100,000 lives, with just 10% of its 270 million people fully vaccinated.
The economy expanded 7.1% from a year ago in the second quarter, beating estimates, but renewed movement restrictions since early July will likely limit growth in coming quarters. The government has begun loosening curbs in several cities as it prepares to reopen sectors of the economy and adjust to living with the virus.
Jokowi expects the fiscal deficit to narrow to 4.85% of gross domestic product next year from the 5.7% expected this year, with 2022 the final year the government is allowed to run a deficit above the 3% statutory limit. The government aims to collect 1,840.7 trillion rupiah in revenue next year, as the president backed a tax plan that would raise levies on basic goods and services, carbon emissions and the ultra-wealthy.
To help fund the shortfall, the government will offer a net 991.3 trillion rupiah of government bonds next year, down slightly from this year's revised estimate of 992.8 trillion. The nation will be selective and prudent in its debt issuance, possibly rounding out its portfolio with a bond offer in non-hard currencies, according to the budget proposal.
There's also about 77.3 trillion in unspent funds that Indonesia can tap to help raise next year's social-aid spending. This should help the country bring down the jobless rate to 5.5%-6.3% and the poverty rate to 8.5%-9% in 2022. The government seeks to eradicate extreme poverty by 2024.
Other macroeconomic estimates in next year's budget include:
Inflation target kept at 3% as the economy recovers and people's purchasing power improves
The rupiah is seen to trade at an average of 14,350 against the U.S. dollar, while the interest rate on 10-year government securities is estimated at around 6.82%
The Indonesian crude oil price is set at $63 per barrel, with oil and gas liftings estimated to reach 703,000 barrels and 1.04 million barrels of oil equivalent per day, respectively
Indonesia's commitment to fiscal discipline, together with the central bank's stance to ensure monetary policy stability, should form "twin pillars of market resilience, despite the often-challenging economic and health circumstances," said Wellian Wiranto, economist at Oversea-Chinese Banking Corp.
"Although the exact path remains unknown at this point, the continued reiteration that the government remains keen on getting back to the 3% fiscal deficit rule in 2023 is a good thing from the market perspective," Wiranto said.
However, Indonesia may be hard-pressed to chase higher GDP growth next year if spending is lowered, especially since its recovery has yet to gain momentum, according to Nicholas Mapa, senior economist at ING Groep NV.
"Growth momentum will have to quickly revert to the pace we saw prior to the onset of the delta variant for this to happen," Mapa said. "We are unsure if growth will enjoy this much pace should fiscal stimulus be scaled back next year."