Indonesia Surprises With Rate Hike After Trade Gap Widens
(Bloomberg) -- Indonesia's central bank unexpectedly raised its benchmark interest rate for a sixth time this year to help rein in a widening trade deficit and bolster the currency.
The seven-day reverse repurchase rate was raised by 25 basis points to 6 percent on Thursday, surprising most economists who had predicted no change. That takes the cumulative rate hikes since May to 175 basis points, making Bank Indonesia one of the most aggressive central banks in Asia this year.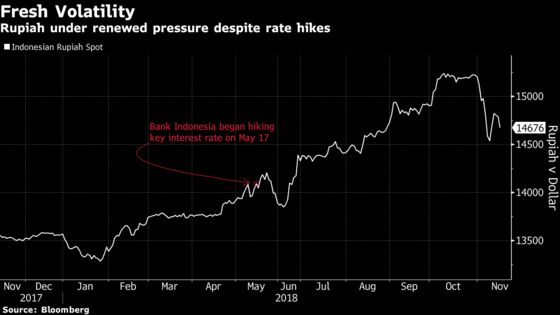 "This decision is part of Bank Indonesia's further measures to strengthen the efforts to lower the current-account deficit until it reaches the safe level," Governor Perry Warjiyo told reporters. "The increase in the interest rate is also expected to boost the attractiveness of domestic financial assets and to anticipate global interest rate hikes in the coming months."
Of the 31 economists surveyed by Bloomberg, just three correctly predicted the decision, with the rest forecasting the rate would be left unchanged
Bank Indonesia has been raising interest rates to curb a currency rout triggered by U.S. Federal Reserve tightening. The government is also trying to reduce imports to narrow the current-account deficit, a key vulnerability for the economy
Data on Thursday showed another big trade shortfall of $1.8 billion in October. That would put pressure on the current-account deficit, which widened to 3.4 percent of gross domestic product in the third quarter, the biggest since 2014. The central bank expects the deficit to come in below 3 percent of GDP this year and reach around 2.5 percent in 2019
While the rupiah gained more than 3 percent against the dollar this month, providing some respite for policy makers, it remains volatile. And with the Fed expected to hike again, Indonesia may be in for some more pain.
On the inflation front, policy makers don't have much to worry about. Consumer prices rose 3.2 percent in October from a year ago, well within the central bank's 2.5 percent to 4.5 percent target band
What Our Economists Say...
With key ingredients for sustained currency stability still elusive, we see scope for Bank Indonesia to lift rates another 25 basis points at its next meeting on Dec. 20. The Federal Reserve continues to signal more hikes ahead. What's more, time is getting short to buttress the currency before any policy shifts might be seen as interference with Indonesia's election in April.

-- Tamara Henderson, Bloomberg Economics
The rupiah jumped as much as 0.8 percent against the dollar to reach a one-week high of 14,665. The Jakarta Composite Index extended gains to as much as 1.5 percent after the decision.
Euben Paracuelles, an economist at Nomura Holdings Inc. in Singapore, said the widening in the current account deficit in the third quarter and a larger-than-expected trade deficit in October likely prompted Bank Indonesia to "front-load" what he expected to be a hike in December. "The governor is clearly still in pre-emptive mode," he added.
The central bank forecasts economic growth of 5.1 percent this year, compared with a previous projection of 5 percent to 5.4 percent
Bank Indonesia also increased its average primary reserve requirement for both conventional and Shariah banks from 2 percent to 3 percent and increased the macroprudential liquidity buffer from 2 percent to 4 percent.