Indonesia Sees Solid Post-Pandemic Recovery in 2021
(Bloomberg) -- Follow Bloomberg on LINE messenger for all the business news and analysis you need.
Indonesia will ramp up government spending to a record high next year and seek the central bank's help in financing the budget deficit as it seeks to revive an economy reeling from the coronavirus pandemic.
Gross domestic product is forecast to grow 4.5%-5.5% next year, while the fiscal deficit is expected to narrow to 5.5% of GDP from this year's 6.34%, President Joko Widodo said Friday in his annual budget speech in Jakarta. Spending is projected to rise 0.3% to 2,747.5 trillion ($185.2 billion), while revenue is seen rising 4.5% to 1,776.4 trillion rupiah.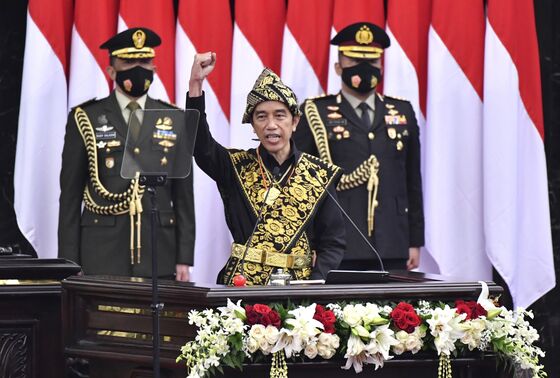 Southeast Asia's largest economy is experiencing its worst crisis in more than two decades as restrictions on movement to fight the pandemic and a plunge in global demand have wreaked havoc on households and business. With government revenue falling, Jokowi, as the president is known, has turned to Bank Indonesia to help share the burden, and said he intends to ask the central bank for help again next year.
"The global economic recovery will likely be a modest one next year, and a more gradual pace of fiscal consolidation is justifiable," said Joseph Incalcaterra, HSBC Holdings Plc's chief Asean economist. "Further details and clarification on the financing plan will be crucial for the market," especially regarding the nature of the central bank's assistance.
The Jakarta Composite Index gained 0.2% Friday to 5,247.69. The rupiah extended its losses for a seventh straight day, weakening 0.1% to 14,795 to the dollar.
Indonesia's economy shrank 5.32% in the second quarter compared to a year earlier, its first contraction in more than two decades. The government cut its GDP forecast for this year to -1.1% to 0.2% growth, Coordinating Minister for Economic Affairs Airlangga Hartarto said at a briefing later Friday, as the country grapples with the highest virus death toll and second-highest caseload in East Asia.
Finance Minister Sri Mulyani Indrawati said the so-called burden sharing agreement with Bank Indonesia -- in which the central bank will buy $27 billion in bonds directly from the government this year -- is a one-off arrangement. But the central bank will still remain a standby buyer of bonds sold by the government to meet the deficit next year, she said.
What Bloomberg's Economists Say
Bank Indonesia's burden-sharing arrangement with the government for 2020 already put the central bank's hard-earned reputation and the country's macro-stability at increased risk. Even so, there's probably no more-palatable alternative to the central bank's rescue. The government needs to quickly ramp up spending to avert a dual health-economic crisis, but that requires issuing many more bonds than the market can digest at affordable borrowing costs.

Click here to read the full note

Tamara Mast Henderson, Asean economist
The government will focus spending to accelerate the economy's rebound from the pandemic, Jokowi said adding it will also push for structural reforms to increase productivity and competitiveness. Earlier, in his customary annual address ahead of the independence day, the president said the crisis spawned by the pandemic was an opportunity to reboot the nation's economic, legal, health and education systems and put it on path to become a developed country.
"The focus on government spending in 2021 is still around the recovery plan," said Josua Pardede, an economist at PT Bank Permata in Jakarta. "Even though the government gave optimism about a high level of growth in 2021, the economic recovery would not be as smooth as projected, even if a vaccine for COVID-19 is invented."
Other key details of the budget:
Inflation seen at 3% next year
Infrastructure spending of 414 trillion rupiah
Health-care spending of 169.7 trillion rupiah -- up from 132.2 trillion -- including to facilitate vaccine procurement
356.5 trillion rupiah set aside for the government's economic recovery program
Taxation revenue target set at 1,481.9 trillion rupiah
419.3 trillion rupiah for various social safety net programs and direct cash transfers to the poor
549.5 trillion rupiah earmarked for education
The government expects the rupiah to average about 14,600 to the dollar next year
Disbursement of 796.3 trillion rupiah for funding of regions and villages
"The government is committed to delivering positive growth in 2021 and beyond by fiscal stimulus, and such counter-cyclical fiscal strategy is indeed appropriate," said Enrico Tanuwidjaja, a Jakarta-based economist for United Overseas Bank Ltd. "The speed of implementation and disbursement on the ground of the real economy is key to achieve the growth target, and flexibility given to the fiscal deficit cap until 2022 will lend much-needed armor."