Indonesia Sees Record Virus Cases With New Clusters Emerging
(Bloomberg) -- Indonesia reported a record jump in daily coronavirus infections as a military academy and an industrial area emerged as the nation's newest clusters, which President Joko Widodo called a "red signal."
There were 2,657 new cases confirmed in the past 24 hours, taking the total to 70,736, health ministry said Thursday, while 58 more people succumbed to the disease, raising the death toll to 3,414. Indonesia has the highest number of cases and fatalities in Southeast Asia.
West Java, adjoining capital Jakarta and the most-populous province, reported 962 new cases after authorities found two clusters of infections. Both the areas have been isolated and under control, according to Achmad Yurianto, spokesman for the government task force.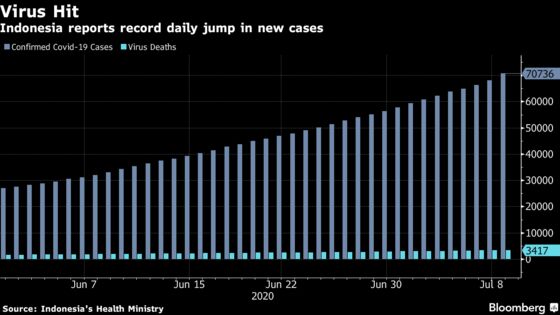 "Today's record cases is a red signal for us," Jokowi, as the president is commonly known, said in a televised address during a visit to Central Kalimantan. "This is a very high number and don't downplay this. This is a difficult crisis, and now this health crisis has already become an economic crisis."
Indonesia has struggled to stem the spread of the pandemic after easing of social distancing rules to allow resumption of economic activities triggered a surge in infections. Jokowi said relaxing of mobility rules should be carefully weighed against health and economic considerations.
The pandemic has hit Indonesia harder than the 1997 Asian financial crisis, battering small and big businesses alike, Jokowi said last month. The president has earmarked 695.2 trillion rupiah ($48 billion) in fiscal stimulus to help cushion the blow of the pandemic. He's also abandoned a fiscal deficit ceiling of 3% of gross domestic product, with his government pushing the central bank to finance a large part of the spending.
Jakarta reported 284 new cases in the past 24 hours, taking the total to 13,488, trailing only East Java, which confirmed 517 new infections. West Java Governor Ridwan Kamil said the majority of the new cases in the province was from a single cluster which has been quarantined with authorities ordering extensive testing of residents.
"The war against Covid-19 is far from over," Kamil said in a statement.