Indonesia Pledges More Action as Currency Continues to Slide
(Bloomberg) -- Indonesia stands ready to respond to global risks brought about by an intensifying trade war and rising U.S. interest rates that have driven the nation's currency to a two-decade low, officials said.
The government will coordinate its policy response with the central bank and the financial services authority, Finance Minister Sri Mulyani Indrawati told reporters in Jakarta on Friday. Bank Indonesia will take steps to stabilize the currency and ease volatility, according to Governor Perry Warjiyo.
Indonesia's currency is among the worst performers in Asia this year, tumbling to its lowest level since the Asian financial crisis in 1997-98, even after officials have implemented measures from import curbs and interest-rate hikes. The central bank has delivered 150 basis-points of rate increases since May and drained billions of dollars from its foreign reserves.
The reserves fell for an eight straight month to $114.8 billion, the lowest level since November 2016, data released by Bank Indonesia showed on Friday.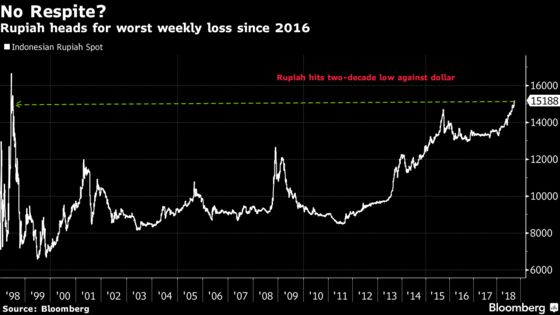 The rupiah retreated 1.9 percent this week, its worst-weekly performance since May 2016. The benchmark Jakarta Composite Index slumped 4.1 percent, capping its first weekly decline in four, while the yield on benchmark 10-year government bonds rallied 26 basis points this week, the most since August, data compiled by Bloomberg show.
Here's a wrap of what Indonesia officials have said on Friday about the currency and the economy:
Bank Indonesia's Warjiyo:
Rupiah movement is being triggered by global sentiments, including geopolitical factors, trade war and a stronger U.S. economy
Central bank will continue to carry out stabilization measures according to market mechanism and maintain supply and demand in foreign-exchange market
Monetary authority will strengthen coordination with government and Financial Services Authority to manage current-account deficit
BI to keep communicating with players in banking and real sector, including exporters and importers
BI to expedite technical preparation for rollout of domestic non-deliverable forward market
Finance Minister Indrawati:
Authorities to keep improving policies and monitor impact of global uncertainties on the economy
"We will keep maintaining flexibility and the willingness to change and improve our policies. Because if global situation keeps moving, we need to respond and strengthen our economy."
Key indicators will be assessed to see whether economy can absorb and manage all of the changes
"With the ongoing changes in the global economy, we hope the parliament and government can respond in the form of certain fiscal policies for 2019 state budget. We will also monitor whether our state-owned enterprises can manage the risks coming from the current changes." 
Coordinating Minister for Economic Affairs Darmin Nasution:
Growing trade dispute between the U.S. and China has reached a point where it can't be stopped, making an unstable global situation inevitable
Uncertainties will remain in global economy as the trade war is unlikely to ease in near future and Indonesia is preparing "several mid-term measures" in response to policies adopted by U.S. President Donald Trump
While there are predictions trade war may ease in the first quarter of 2019, that is unlikely as each party develops strategies that make it harder to stop
Recent rupiah depreciation will hit the industries, however, imported inflation is still low
While weakening rupiah has pushed up prices, it's still tolerable as year-to-date core inflation is hovering at around 2%
"The rumble is great, but the real impact is not."