Bank Indonesia Hints at Rate Cuts as It Monitors Global Risks
(Bloomberg) -- Go inside the global economy with Stephanie Flanders in her new podcast, Stephanomics. Subscribe via Pocket Cast or iTunes.
Indonesia's central bank said on Thursday it will consider whether there's room to ease monetary policy, the first indication it's given this year of possible interest-rate cuts to unwind a series of hikes in 2018.
Bank Indonesia left its benchmark interest rate unchanged at 6%, as expected, with Governor Perry Warjiyo telling reporters in Jakarta that the policy stance is "cautious neutral" and data dependent.
After 175 basis points of hikes last year, policy makers in Southeast Asia's biggest economy are reluctant to ease too quickly to avoid destabilizing the currency, which is already under renewed pressure from rising U.S-China trade tensions and a global slowdown. Central banks in the Philippines, Malaysia, India and New Zealand have already cut interest rates this year.
Bank Indonesia said it will remain vigilant of global financial market dynamics and external stability "with due consideration to the space available for accommodative monetary policy in line with low inflation and the need to stimulate domestic economic growth."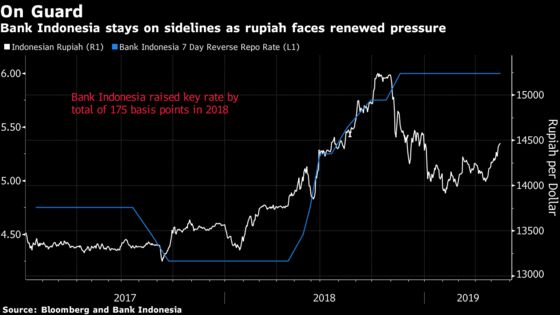 Warjiyo painted a picture of a slowing economy, still wide current-account deficit and subdued inflation. He said growth will be below the midpoint of the central bank's 5% to 5.4% forecast range for this year, while the current-account shortfall will be higher than previously estimated in a range of 2.5% to 3% of gross domestic product.
The government has struggled to rein in the deficit, which is seen as a key vulnerability for the economy and the currency. Indonesia posted its biggest trade gap in more than a decade in April, putting pressure on the current account.
Key Highlights from Bank Indonesia
GDP growth in 2019 seen below midpoint of 5-5.4% forecast range
CPI seen below midpoint of 2.5-4.5% target in 2019
Current account deficit seen at 2.5-3% of GDP in 2019
Rupiah expected to move stably in line with market mechanisms going forward
Central bank to maintain accommodative macroprudential policies
The rupiah has already taken a knock from the worsening global outlook, with the currency down more than 2.6% against the dollar in the past month. It fell 0.1% to 14,465 as of 8:25 a.m. in Jakarta on Friday, heading for its fourth straight weekly decline.
"Unless market sentiment materially improves in the coming weeks, the odds are that BI will opt to be patient and make its move only in the second half of this year," Krystal Tan and Sanjay Mathur, economists at Australia and New Zealand Banking Group Ltd. in Singapore, said in a note.
Indonesia officials are worried about potential spillovers from the U.S.-China trade war. Warjiyo also said on Thursday the global economic recovery is progressing slower than expected, financial market uncertainty is back on the rise and China's economy is sluggish despite policy stimulus from authorities there.
What Bloomberg's economists say

"Bank Indonesia is looking for an opportunity to cut interest rates, but acknowledged that the current external climate makes that tough to do. Barring a significant de-escalation in U.S.-China trade tensions or rate cuts by the Federal Reserve, we expect the central bank to maintain in 2019 its dual stance -- shoring up the currency with an elevated policy rate while supporting credit growth with other tools."
-- Tamara Henderson, Asean economist
Click here to read the full report
Inflation remains subdued, and although it quickened in April to 2.8%, it remains well within the central bank's target band of 2.5% to 4.5%. The central bank sees inflation at below the midpoint of that range this year.
More comments from Warjiyo:
On rate outlook: "For the interest rate, we decided to maintain it in line with efforts to maintain external stability of Indonesia's economy amid increasing uncertainties in global financial markets. So, if we look at the liquidity, it is loose. Macroprudential policy, it is loose. We have also been expansive in deepening the financial market. But for interest rate, not yet"
On policy stance: "The characteristics of our interest rate are cautious neutral, data dependent"
On threat of U.S. labeling Indonesia a currency manipulator: "We intervene to prevent the rupiah from depreciating too much, whereas other countries are said to deliberately weaken their currencies to push exports. We are the opposite." Indonesian officials, including the governor, continue to hold discussions with their U.S. counterparts, he said