Indonesia's IPO Craze Is Alive and Well With 220% Gainer
(Bloomberg) -- The Indonesian stock exchange has kicked off the new decade as Southeast Asia's busiest bourse for initial public offerings.
The nation has seen more listings than any other in the region, accounting for six of the eight IPOs this month, according to data compiled by Bloomberg. These companies have collectively raised $57.4 million.
Companies that listed in Indonesia last year had exceptional returns, with 10 out of 55 of them surging more than 500% since their IPO, the data show. Those that went public in January had risen by an average 79% through Friday, weighted by deal size, compared with a drop in the national benchmark gauge. Agricultural-services provider PT Cisadane Sawit Raya has gained the most, up 220%.
Here are the newly listed companies on the Indonesian stock exchange this year:
| Company Name | IPO Size | Offer to Date Price Move |
| --- | --- | --- |
| Perintis Triniti Properti | $15.6m | 48% |
| Ashmore Asset Management Indonesia | $15.1m | 44% |
| Bank Amar Indonesia | $15m | 159% |
| Royalindo Investa Wijaya | $6.8m | 79% |
| Cisadane Sawit Raya | $4.0m | 220% |
| Tourindo Guide Indonesia | $0.9m | 29% |
In an effort to boost listings, the government said last year it will lower the corporate-tax rate for companies conducting IPOs to 17% in the first five years, lower than that of Southeast Asian neighbors such as Thailand and Malaysia. This year, only tiny firms have gone public in Indonesia, with the average offering size sliding over the past decade.
The shares on offer in such small IPOs are usually distributed to a group of cornerstone investors, meaning the shares may have low liquidity upon listing. That can make the stocks prone to huge price jumps, or, conversely, gut-wrenching price falls.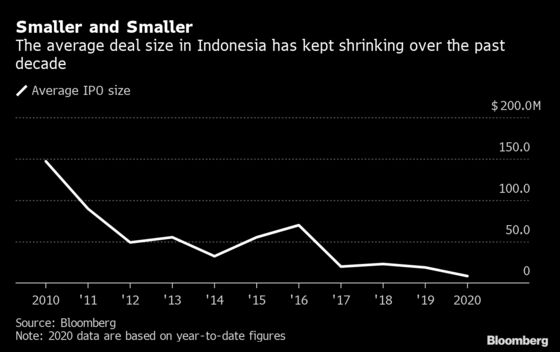 Still, Indonesia is gearing up for several larger deals this year, including the listing of sanitary product maker PT Softex Indonesia for as much as $500 million, and an IPO by the country's biggest private carrier, Lion Air, which could raise as much as $1 billion, people familiar with the matter said last year.
Central Retail Corp.

Thailand stock exchange
Size

up to

$2.6b
Books close Feb. 3, listing Feb. 20
Bualang Securities, Phatra Securities, Credit Suisse, Morgan Stanley, UBS

Shenzhen Leoking Environmental Group Co.

Hong Kong exchange
Pre-marketing started Dec. 18
CLSA sole sponsor

Mr D.I.Y Group Sdn.

Bursa Malaysia
Size

up to

$500m
Pricing date TBD
CIMB, Maybank

Zhongguancun Science-Tech Leasing Co.

Hong Kong exchange
Size $65m
Listing Jan. 21
Bocom International, GF Securities, Guotai Junan, Silk Road International Capital

Willfar Information Technology Co.

Shanghai exchange
Size $103m
Listing Jan. 21
CICC
More ECM situations we are following:
Chinese cloud company UCloud Technology Co. climbed as much as 121% from the offer price on its trading debut on Shanghai's Star Board.
Olam International Ltd. will reorganize its business into two divisions and eyes a potential IPO listing, according to a statement to the Singapore stock exchange.
Teledirect Pte. is exploring the possibility of shifting its planned Singapore IPO to the U.S., IFR reported, citing people familiar with the matter.
Asia ECM Weekly Agenda
IPO data
U.S. ECM Watch
EU ECM Watch
To receive the ECM Watch in your inbox daily, click the "subscribe" button at the top of this article