Indonesia Has Space to Cut Rates as Rupiah Gains: Decision Guide
(Bloomberg) -- Indonesia's central bank is expected to cut its benchmark interest rate for the third time this year as recent gains in the currency allow policy makers to shift their focus to bolstering the economy amid the coronavirus pandemic.
Bank Indonesia will lower its benchmark rate by 25 basis points Tuesday to 4.25%, according to 19 of 25 economists surveyed by Bloomberg, with the rest expecting no change. The central bank, which paused last month after lowering rates at two consecutive meetings, has already flagged that another cut may be in the pipeline.
"The coast is clear for a prudent interest-rate cut," said Satria Sambijantoro, an economist at PT Bahana Sekuritas in Jakarta, pointing to the rupiah's gains over the past month. A concurrent drop in consumer-goods imports -- down more than 16% last month -- signals weakness in purchasing power, he said, and justifies concerns about second-quarter growth.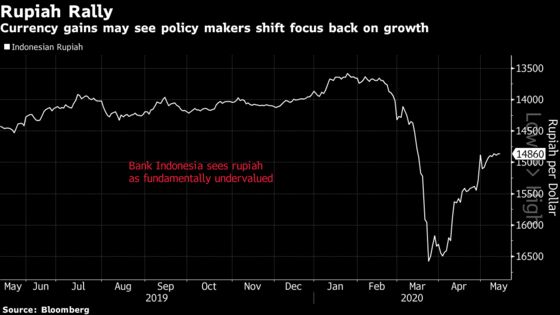 Here's what to look for in Tuesday's decision:
Like many countries, Indonesia is reeling from the hit to trade and consumer demand as millions have lost their jobs. The government and central bank have slashed their growth forecasts for the year, with gross domestic product now expected to expand 2.3%, compared to an initial projection of 5.3%.
Finance Minister Sri Mulyani Indrawati has warned of a possible "domino effect" from the virus, which already has prompted much larger capital outflows than the global financial crisis did. The central bank expects economic growth to rebound next year, to 6.6%-6.7%.
Officials are discussing how to reopen the economy, but with local deaths from the pandemic topping 1,000, President Joko Widodo ruled out an immediate easing of social-distancing steps and ordered officials to strictly enforce a travel ban during the busy holiday season.
After a period of sustained pressure on the rupiah -- a major factor in the bank's decision to keep borrowing costs steady last month -- the currency has been gaining against the dollar in recent weeks. That's likely removed a key barrier to further easing.
The rupiah is up more than 4% against the dollar in the past month, the best performer in Asia, paring its decline for the year to about 6.6%.
Warjiyo has said further easing is contingent on market stability, adding that the rupiah remains "fundamentally undervalued" and pledging to intervene in the market if necessary to support the currency.
With global demand reeling from the virus, Indonesia's exports have slumped and its imports plunged for a 10th straight month in April, reflecting a significant downturn in consumer spending. Exports fell 7% from a year ago while imports declined 18.6%, resulting in a trade deficit of $345 million.
The fall in imports is a worrying sign for the overall health of Indonesia's economy, which depends on consumer spending from a population of almost 270 million.
The current-account deficit remains a key vulnerability and was one of the main reasons Indonesia was hit so hard in last year's emerging-market upheaval. Concerns have subsided -- the central bank expects a shortfall of less than 2% of GDP this year -- but haven't disappeared altogether. Warjiyo has said the current-account deficit is set to widen to 3%-4% of GDP next year as the economy heats up.