Indonesia Exchange Plots Ways to Lure Investors to Combat China
(Bloomberg) -- The Indonesia Stock Exchange plans to increase its offerings as it tries to keep its equities market relevant for global investors in the wake of China's addition to a key global benchmark.
The bourse is looking at increasing the number of local exchange-traded funds and will also add derivatives products, according to Laksono Widodo a director at the exchange, known as IDX. China, the world's second-biggest stock market, saw its shares added to the MSCI Emerging Markets Index earlier this year. That move diluted the allocation of other markets in global investors' portfolios and contributed to $3.6 billion of outflows from Indonesian equities this year, analysts have said.
"For Indonesia and some markets in Southeast Asia, the inclusion of Chinese stocks into MSCI Index this year was seen as a big challenge," Widodo, who joined IDX in June, said in an interview. "We need to respond to this by expanding our products offering and increasing the liquidity. We need to keep our market relevant to international investors."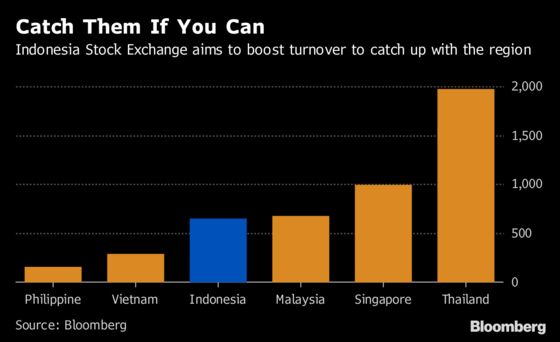 The threat from Chinese stocks comes as emerging markets face several headwinds, including concerns about global growth and the increasing risk of a trade war. The Jakarta Composite Index has dropped 8 percent this year.
IDX plans to increase the number of ETFs this year to 19 from 14 and will also introduce single stock options among other derivatives, Widodo said. The exchange's management would like to see average daily trading turnover rise to around 12 trillion rupiah ($830 million) in three years from around 9 trillion rupiah this year, he said. The market value of companies listed at the exchange is forecast to rise to 10,000 trillion rupiah in three years from 6,600 trillion rupiah today.
"ETFs will eventually become a dominant investment instrument globally," Widodo, former Managing Director at PT Mandiri Sekuritas, said. "We need to keep our markets relevant by offering new instruments to catch up with others that are already more developed than us."