India Stocks Halt Three-Day Drop as Vaccine Report Lifts Asia
(Bloomberg) -- Indian stocks advanced for the first time in four days, tracking a regional rally after early vaccine results sparked speculation economies could rebound quickly.
The S&P BSE Sensex rose 0.6% to close at 30,196.17 in Mumbai, while the NSE Nifty 50 Index gained by as much, though the indexes came off the day's high level. The rupee rose 0.4% to 75.64 per dollar on Tuesday, while the yield on most-traded 6.45% 2020 bonds fell two basis points to 6.04%.
"The possibility of a vaccine will bring temporary relief to the market," said Abhimanyu Sofat, head of research at IIFL Securities Ltd. in Mumbai. "Overall challenges of reviving the economy after the lockdown will continue to impact prospects for the market."
While extending its lockdown to May 31, India eased curbs on some businesses, driving a surge in fuel sales in the first half of May from a month earlier as some commerce resumed. Still, the economy is headed for its worst ever recession, Goldman Sachs predicts.
India has 100,328 Covid-19 infections and 3,156 deaths, according to data from John Hopkins University. Government stimulus equivalent to 10% of the economy unveiled since February may fall short of tackling the near term challenges posed by the pandemic, strategists forecast.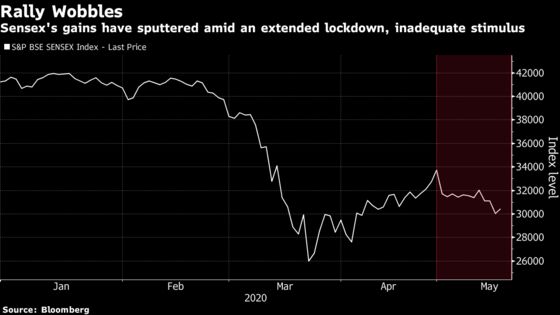 Of the 19 Nifty 50 companies that have reported March quarter results so far, only five have beaten estimates. Bharti Airtel Ltd. posted a fourth-straight quarterly loss after Monday's market close.
13 of 19 sub-indexes compiled by BSE Ltd. advanced, led by a gauge of telecom companies
Bharti Airtel Ltd. gave the biggest boost to the Sensex and was the steepest gainer with a 11.3% advance. Reliance Industries Ltd. was the biggest drag and Indusind Bank Ltd. was the biggest loser with a 2.4% drop.