Indian Stocks Fall With Asian Markets in New Year's Eve Lull
(Bloomberg) -- India stocks fell, in line with declines in most equity markets across Asia on New Year's Eve.
The S&P BSE Sensex fell 0.7% to 41,253.7 at the 3:30 p.m. close in Mumbai. The NSE Nifty 50 Index also slipped 0.7%.
The benchmark Sensex is trading near a record high as investors anticipate a recovery in economic growth in the new year.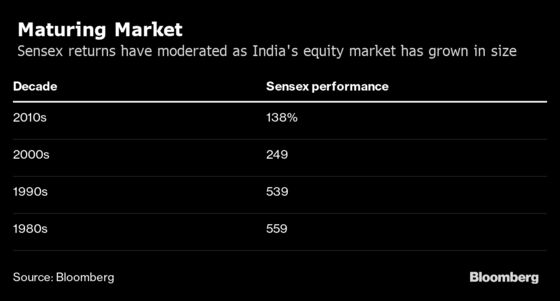 While the 2010s don't compare favorably to past decades in terms of the Sensex's performance, India's equity market still grew significantly in size and liquidity, providing investors with more options and confidence in the depth of the market. Indian stocks' market cap nearly doubled since 2010, Bloomberg data show.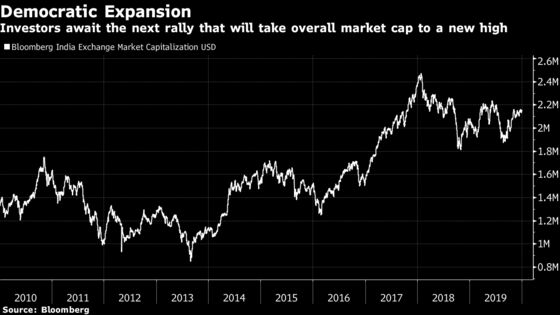 "The 2020s are going to be an era of disruption in every space, whether health care, engineering, the environment or communications," said Deven Choksey, who oversees investment and research at KR Choksey, a Mumbai-based wealth manager and brokerage. "In India, financial products like insurance and pension funds would have significantly large potential for growth in the next decade."
Fourteen of 19 sector sub-indexes compiled by BSE Ltd. dropped, led by a gauge of energy companies.
Reliance Industries contributed most to the index's decline, falling 2%, while Tech Mahindra had the biggest drop, slumping 2.5%.
NTPC was the biggest winner and push to the index, gaining 2%.