Indian Rate Hike a 'Non-Event' for Stocks, Next Up the Election
(Bloomberg) -- The morning after the day before and equity strategists remain split on whether the world-beating rally in Indian stocks will continue or pause for breath after Wednesday's rate hike.
All seem to agree that the big focus for investors now is next year's election.
"Investors will forget the rate hike and refocus on individual companies and their outlook," said Kishor Ostwal, managing director at CNI Research Ltd. in a telephone interview. "The fate of general elections next year will be the focus of attention."
Indian stocks will surge to a new high as most investors are short and this quarters earnings are better than expected on aggregate, according to Ostwal.
India's central bank raised interest rates to the highest in two years to tackle inflation pressures in the world's fastest-growing major economy and shore up the rupee if a global currency war breaks out. Reserve Bank of India Governor Urjit Patel hinted at possibly more tightening to maintain economic stability amid growing risks from global trade and currency tensions.
The benchmark S&P BSE Sensex Index slipped 0.2 percent Wednesday after the hike. Still, the gauge has advanced 10 percent this year, holding its place as Asia Pacific's best performing market and becoming the world's best major stock market in local currency terms.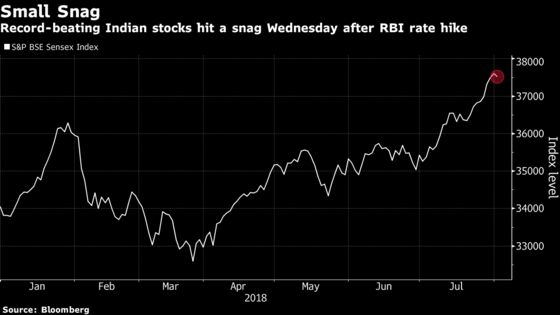 While Abhimanyu Sofat, vice president at India Infoline Ltd. also sees further gains, he expects a "churning" in terms of market leadership. A selection of banks and industrial stocks, such as Reliance Industries Ltd., is likely to lead to new highs, he said.
"Investors are likely to forget this hike soon as earnings growth is improving led not only by consumer but now industrials as well," he said.
Still, other market participants suggest India's rally is now due for a pause, with extended valuations causing investors to become more cautious. And coming back on to the investment radar is politics.
"We may see some consolidation coming in as we are getting closer to an election cycle," said Soumen Chatterjee, head of research at Guiness Securities Ltd. "Markets can take this policy decision as non-event."
The federal election due by next year will determine whether Prime Minister Narendra Modi extends business-friendly policies he put in place after the 2014 vote, when his party won the largest majority in three decades. While economic growth initially surged after his victory, it took a hit after he banned 86 percent of the country's currency in a bid to stamp out unaccounted wealth in 2016, and has only recently recovered.
With his popularity receding, polls show that Modi's ruling Bharatiya Janata Party may fall short of a full majority.
"Elections brings uncertainty and that is something which markets generally don't like," said Guiness's Chatterjee.