Pause in Indian Rally as Stocks Follow Global Counterparts Lower
(Bloomberg) -- Indian equities halted a three-day rally to follow Asian counterparts lower after concern about the outlook for some of the world's biggest technology companies sent U.S. stocks tumbling overnight.
The benchmark S&P BSE Sensex retreated 0.8 percent to 35,474.51 at the 3:30 p.m. close in Mumbai. Private lender Yes Bank Ltd. dropped the most, falling 6.2 percent, after an independent director quit.
Concern about demand for Apple Inc.'s iPhones and the public image of Facebook Inc. damped investor sentiment globally. In India, some investors remain concerned that the price of oil will rebound and weigh on company profits, while the outcome of state elections through year-end has fanned the prospect of political instability ahead of a national poll next year.
"The big correction is probably done, but there will still be a consolidation phase on global headwinds," said Shrikant Shetty, vice president of equities advisory at Mumbai-based Motilal Oswal Securities Ltd. "The other major concern will be elections, which brings in a lot of uncertainty and keeps people from putting big fresh money."
Citi Sees Limited Upside to Indian Stocks on Valuations: Chart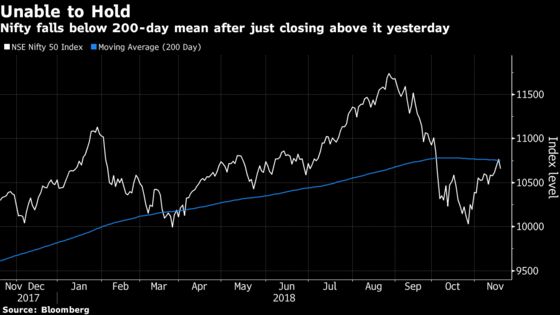 Phased polling has begun in five Indian states and the outcome is seen as an indicator of voter sentiment on the Narendra Modi-led Bharatiya Janata Party national government, which in turn is expected to seek re-election by May 2019.
The NSE Nifty 50 Index dropped 1 percent, falling back below a key 200-day mean just a day after breaking above it for the first time since Oct. 3. All the 19 sector indexes compiled by BSE Ltd. fell, led by the S&P BSE Metal Index's 2.8 percent decline.