India Stocks Join Global Bloodbath to Cap Worst Week in a Decade
(Bloomberg) -- Indian stocks plunged, with the benchmark indexes posting their worst drop in more than four years, as the fast-spreading coronavirus roiled global markets.
As investors picked up the pieces at the end of the most harrowing week for the nation's equities since July 2009, these were the main moves in the $2.1 trillion market on Friday:
The S&P BSE Sensex declined 3.6% to 38,297.29 at the 3:30 p.m close in Mumbai, while the NSE Nifty 50 Index tumbled 3.7%.
The average trading volumes in Sensex and Nifty companies were at least 50% higher than the 30-day mean at the close.
All but one of the 30 Sensex stocks declined, with losers outpacing gainers 97-to-3 on the broader BSE100 Index.
Not unexpectedly, the India NSE Volatility Index, a gauge of expected price swings, jumped the most in more than three years as investors braced for more pain.
The coronavirus looms as a new threat to the fragile recovery in India's economy, with data later Friday expected to show a pick up in growth for the first time in seven quarters. The recovery remains uneven, with a slew of high-frequency indicators showing consumption, which accounts for 60% of GDP, still weak.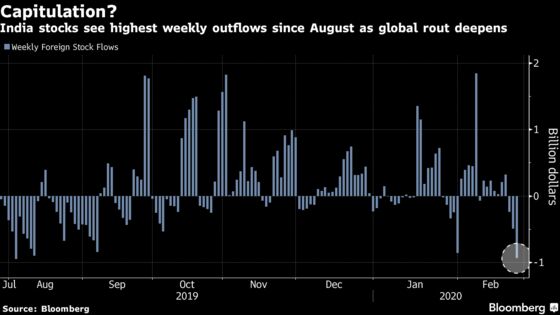 The global risk aversion has also turned the tide for flows into Indian assets. Foreigners sold a net $934 million of shares from Monday through Thursday, set for the biggest outflow since August. They also unloaded $761 million of bonds, the most since April.
"As the coronavirus is spreading across countries, the fear factor is going up," said Rusmik Oza, head of fundamental research at Kotak Securities Ltd. "The fall in Nifty was accentuated after it broke the 200-day moving average. It has since followed the developed markets."
"While there's no telling what will happen in the next trading session, my sense is that we will be much better-off, a couple of months' down the road. The market fall so far, is factoring in a reasonably bad case-scenario," said Amar Ambani, senior president and head of research at YES Securities India Ltd. in Mumbai.
"If the coronavirus issue continues for a longer time, it will start affecting earnings," said Vineeta Sharma, head of equity research at Narnolia Financial Advisors Ltd. in Mumbai, "We are going cautious on Nifty and large-cap stocks."
All 19 sector sub-indexes compiled by BSE Ltd. dropped, led by a gauge of metal companies which dropped 7%, the most in five years
All Sensex shares fell except ITC Ltd., which rose 0.1%
Reliance Industries contributed the most to the Sensex's decline, with a 4.2% tumble; Tech Mahindra Ltd. slumped 8.1%.