Rupee Weakens With Indian Equities as Rescue Package Falls Flat
(Bloomberg) -- India's rupee declined the most in two weeks, and equities sank as investors were unimpressed by the government's economic stimulus package.
The rupee fell 0.4% to 75.9150 per dollar at the close in the third day of declines. The S&P BSE Sensex and the NSE Nifty 50 Index of shares tumbled 3.4% each in Mumbai. Both measures capped their second-week of losses Friday and ended the day at their lowest levels since early April.
"People are more concerned about short-term challenges and not the benefit of these measures in the long run," said Ajit Mishra, vice president of research at Religare Broking Ltd. in Mumbai. "How these reforms will help improve demand in the near term is what everyone's worried about."
India extended its lockdown to May 31, while easing restrictions on some businesses after unveiling a rescue package equivalent to 10% of the economy since February. Barclays Plc estimates the actual fiscal impact of stimulus will be only about 0.8% of gross domestic product, while equity strategists and economists are concerned the measures will fall short of tackling the near-term challenges posed by the pandemic, including boosting demand in an already fragile economy.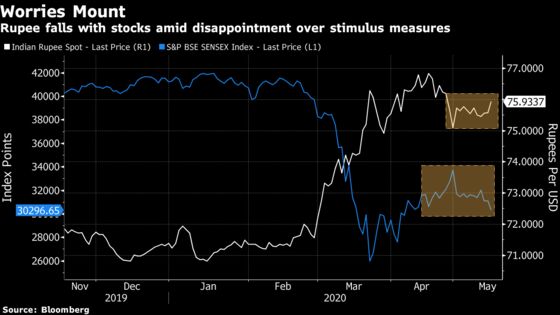 "Markets are factoring in a painful period for the economy that will see corporate earnings falling and bankruptcies rising for small companies and individuals," said Anindya Banerjee, a currency analyst at Kotak Securities Ltd. in Mumbai.
The contagion is accelerating in the South Asian nation of 1.3 billion people, with 96,169 infections and 3,029 deaths, according to data from John Hopkins University.
As the earnings season for the quarter through March continues, Bharti Airtel Ltd. is scheduled to report results today. Just five of the 18 Nifty 50 companies that have reported so far have beaten analyst estimates.
All except one of 19 sector sub-indexes compiled by BSE Ltd. slipped, led by a gauge of banks.
The Bankex Index slumped 6.7% to the lowest level since April 3.

Analysts say

the government's rescue package, which focuses on credit to small firms, leans heavily on banks and financial institutions with very little extra budget spending.
HDFC Bank Ltd. dropped 5.8% and contributed the most to the index decline, while IndusInd Bank Ltd.'s 10% plunge was the largest. Infosys Ltd. was the biggest boost and had the steepest gain with a 2.1% advance.