India Stocks Decline as Volatility Surges to Nine-Month High
(Bloomberg) -- Indian stocks extended losses to a fifth session on mounting concern that the coronavirus may spread across the world's second-most populous nation, worsening the economic outlook.
The S&P BSE Sensex declined 0.4% to 39,745.66 as of 3:30 p.m. in Mumbai, capping its longest string of losses in almost five months. The NSE Nifty 50 Index also slipped 0.4%. A gauge of volatility on the Nifty is at its highest level since May 23.
Markets have been roiled by concerns that an outbreak that began in China, infecting more than 75,000 people there and killing more than 2,700, is now propagating around the world. Asia's third-biggest economy, which will post its quarterly gross domestic product performance on Friday, has reported only three confirmed cases with all patients having recovered, according to a government statement.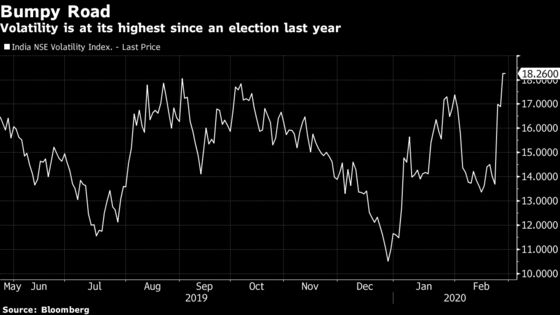 "Everybody is surprised at the low-level of infection that has been maintained in India despite having the second-largest population and not being cut off from other countries," said Chokkalingam G, head of investment advisory Equinomics Research & Advisory Pvt. in Mumbai. "The next two weeks would be a crucial test. Within those two weeks any recovery in stocks would be cautious and limited."
Seventeen of 19 sector sub-indexes compiled by BSE Ltd. fell, led by a gauge of real estate companies
ICICI Bank Ltd. contributed most to the index decline, falling 1.7%; ONCG Ltd. was the biggest loser with a 2.6% drop
Billionaire Damani Raises India Cement Stake as Shares Surge
BSE To Shift 30 Stocks To Restricted Trading Group, NSE To Move 13 Scrips