India a 'Good Place to Hide' From Trade War for This  $10 Billion Fund
(Bloomberg) -- Ashburton Investments Ltd., which oversees $10 billion in global assets, is steadily acquiring stocks in medium-sized Indian companies that have been overlooked as investors targeted better-known companies.
India is a "good place to hide" as it's not at "the heart of" the global trade-war volatility and exposed to the strengthening dollar, Jonathan Schiessl, the fund's investment director, said in an interview. The country is relatively safer with "beta at multi-year lows," and is still an outperformer among emerging markets with relatively better international flows, he said.
The Sensex has jumped more than 12 percent from its March low to become the first among major benchmark Asian equity gauges to rebound from a correction this year. The recovery has been fueled by the persistent buying by local mutual funds and optimism about corporate earnings for the June quarter.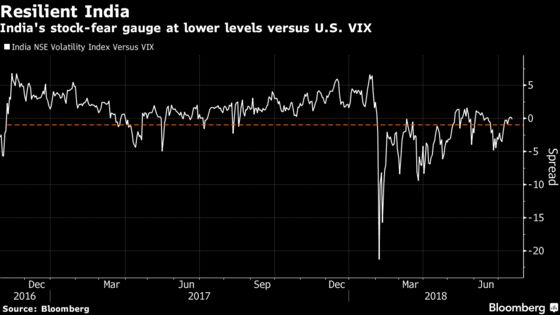 Gains have been lopsided as investors sought safety in the biggest stocks amid headwinds from a brewing trade conflict and elevated prices of oil, India's top import. A selloff in mid- and small-cap stocks -- made worse by stringent margins imposed in June -- has left smaller firms trading near the biggest price discount to the Sensex since July 2016, data compiled by Bloomberg show.
India is a large market with plenty of opportunity to "add alpha outside large caps," he said. Schiessl recommends a "barbell" strategy to hold large names and use market volatility to "nibble at" select small- and mid-cap stocks.