India Banks Jump as Record Capital Infusion Set to Boost Loans
(Bloomberg) -- Corporation Bank of India and Central Bank of India led gains in the nation's state-run lenders after the government announced plans to bolster their capital ratios to boost loan growth.
The government plans to inject 482 billion rupees ($6.8 billion) into 12 lenders, taking the total infusion for the year to March 31 to a record 1 trillion rupees, Rajeev Kumar, secretary at India's department of financial services, said in a tweet on Wednesday.
The funds will help Corporation Bank and Allahabad Bank exit a so-called Prompt Corrective Action plan -- under which banks are restricted from lending while they mend balance sheets -- while ensuring that all state-run lenders are meeting the minimum capital requirements.
In an election year, Prime Minister Narendra Modi's government is hoping that a stronger banking system will help bolster credit growth hovering near a five-year high seen in December. The infusion will help lenders struggling with an erosion in capital reserves to boost lending and support economic expansion.
Corporation Bank jumped 16 percent, the most since October 2017, while Central Bank of India gained 5.9 percent as of 10:05 a.m. in Mumbai. The Nifty PSU Bank Index, a gauge of 12 state lenders, rose 0.9 percent.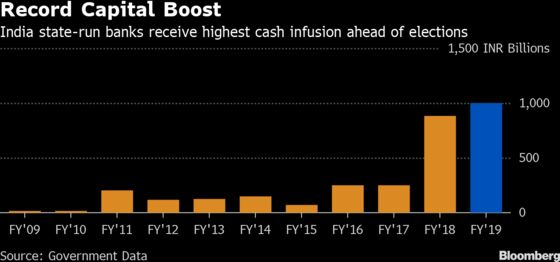 Earlier this year, Modi's government got parliamentary approval to spend an additional 410 billion rupees to strengthen the bank balance sheets on top of a 1.35 trillion rupee recapitalization plan announced in 2017.
| | |
| --- | --- |
| Bank | Capital to be infused (Billion Rupees) |
| Allahabad Bank * | 68.96 |
| Union Bank  | 41.12 |
| Bank of India | 46.38 |
| Bank of Maharashtra | 2.05 |
| Central Bank of India * | 25.60 |
| Corporation Bank * | 90.86 |
| Indian Overseas Bank * | 38.06 |
| Punjab National Bank | 59.08 |
| Syndicate Bank | 16.03 |
| United Bank of India * | 28.39 |
| UCO Bank * | 33.30 |
| Andhra Bank | 32.56 |
* Banks under Prompt Corrective Action