In Leaderless Stock Market, Gains Are Proving Hard to Maintain
(Bloomberg) -- A strong economy, rising earnings, hedge fund buying and the midterm elections were all supposed to rescue the market. Now that none of them have, investors are wondering what's left.
Things that used to be buying opportunities have become reasons to sell. Falling oil may enrich consumers, but all anyone cares about lately is its impact on credit. Profits are rising 25 percent a quarter, but now investors are obsessed with next year. The Federal Reserve is talking tough. Democrats may restore bank regulation. No wonder it's volatile.
"I am bearish and don't think there are many positive catalysts out there," said Michael O'Rourke, JonesTrading's chief market strategist. "Maybe the market can get a seasonality rally, but that's not enough to invest upon."
Not everyone is that glum. Wall Street strategists haven't given up hope. Among 25 forecasters tracked by Bloomberg, 18 still predict the S&P 500 will end the year above the record high of 2,930.75 reached in September.
Still, bad streaks are piling up. In a little over a month, the S&P 500 has fallen five days in a row three different times, a clustering of pain that has no precedent since 1984. The Nasdaq 100 is at risk of dropping for three straight months. As tech stocks slump, groups that had previously picked up the slack have faltered. This week, energy and bank shares both led the way down on separate days.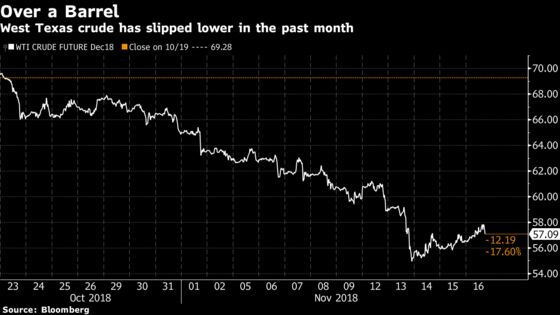 "The turn in psychology oftentimes has happened just because the markets tend to swing, the pendulum tends to swing," said Mark Heppenstall, the chief investment officer at Penn Mutual Asset Management. "It seems to be swinging the other way."
Nowhere is shifting sentiment more evident than in the attitude toward earnings. While third-quarter income growth was robust, executives are a lot less optimistic on the outlook. Over the past three months, firms saying sales will miss analyst estimates outnumbered those saying they'll exceed them by the most since 2009, data compiled by Evercore ISI showed.
The S&P 500 slipped 1.6 percent this week, the loss trimmed by an off-again, on-again rally on Friday that came after Donald Trump said he was optimistic about resolving the trade dispute with China. The S&P 500 erased two different rallies following the president's comments before finally finishing 0.2 percent higher.
Get used to the volatility, says Barry Bannister, equity strategist at Stifel Nicolaus. Neither a cooling in tariff rhetoric nor even a more dovish Federal Reserve is likely to keep the market aloft. An agreement with China is unlikely to improve the trade imbalance between the world's two largest economies and interest rates are already too high for the S&P 500 to care about a softer stance by the Fed, said Bannister.
As evidenced Friday, any sign of progress in the U.S.-China trade disputes can still lift markets. This week, White House economic adviser Larry Kudlow said the two sides have resumed contact "at all levels" over trade. And Chinese officials have outlined to the Trump administration potential concessions as they continue to try to resolve the trade tiff.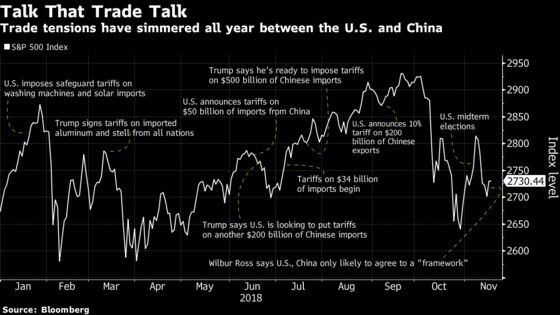 Among other potential catalysts, analysts are expecting a monster U.S. holiday shopping season, with consumer confidence high and median wages on the rise. But peak Christmas is making investors jittery and some are asking if this is as good as it gets. Will this year's colossal shopping season mark the end of a relatively benign period for American retailers, where sky-high expectations have risen to levels that some chains will struggle to hit?
The market has been acting like expectations are too high. Most of this week's losses happened Monday, when concern about demand for Apple Inc.'s iPhone sent the Nasdaq 100 down almost 3 percent. That kind of decline is becoming a regular occurrence in late 2018. It's notable that even with that kind of volatility, most major indexes remain higher on the year.
"I can't believe we've had two 10 percent corrections this year and neither one of them has caused a panic -- and that's surprising that it hasn't," said Jim Paulsen, chief investment strategist at Leuthold Weeden Capital. "It shows you how much the good profits story and good economics has kept people optimistic. If that fades too now, that optimism might go with it. At the end of the day, it's still a gut call."