In a Stormy Quarter, Thailand's Baht Shines as Rate Rise Beckons
(Bloomberg) -- Thailand's currency has been a standout performer in what's been another tough quarter for many emerging currencies. Along with an outsize current-account surplus, the country is luring investors thanks to prospects for the first interest-rate hike since 2011.
The baht has strengthened almost 2 percent this quarter against the dollar, the top performer among 12 major Asian currencies tracked by Bloomberg. It's also good enough for No. 2 in emerging markets, behind Mexico's peso, which has benefited from a U.S. trade deal. The gain takes back some of the previous quarter's loss, when the baht put in Asia's worst performance.
"The baht got an additional support during this quarter as the Bank of Thailand became hawkish, with the economy showing a solid recovery and inflation returning back to the central bank's target range," said Takahide Irimura, the head of economic research in Tokyo at Mitsubishi UFJ Kokusai Asset Management Co., which managed $121 billion as of the end of June. "The currency may continue to perform well into the final quarter of the year, when tourism revenue seasonally picks up, and pushes up the current-account surplus."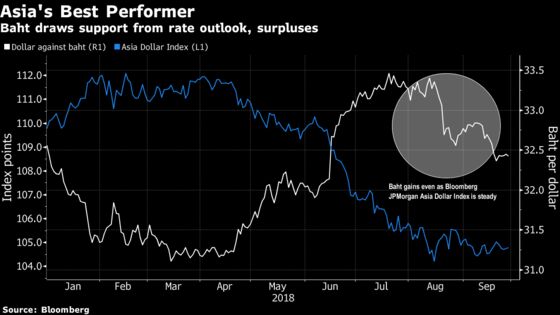 After years of wallowing in the "middle-income trap" -- subpar growth for countries that made the initial jump up the development ladder -- Thailand's economy has been kicking into higher gear as its government gets going on infrastructure projects. Prospects for a political transition have also emerged. A royal endorsement this month paved the way for a long-delayed general election, boosting hopes that spending related to the vote will lift consumption and jobs.
With growth clocking a pace just under 4 percent for a second straight year, and forecasts for a similar pace next year, according to the IMF, inflation pressures are expected to pick up. The baht reached a three-month high last week after the Bank of Thailand said the need for accommodative policy is expected to decline. Two of seven voters on policy favored an immediate hike in the 1.5 percent benchmark rate.
The nation's current-account surplus of nearly 10 percent of gross domestic product has also provided support in a period of emerging-market rout triggered by sell-offs in Turkey and Argentina. Foreign investors poured almost $3.5 billion net into the Thai bonds since the quarter began, and though they pulled some out of equities, the SET Index has been the best performer among major Asian markets, headed for its biggest quarterly rally since 2013.
Bank of Thailand Governor Veerathai Santiprabhob signaled on Monday that policy makers will be careful not to hurt growth prospects if they do raise rates, with a pause likely after any such move.