Imposter Posed as SEC to Tank Shares, Penny-Stock Pot Firm Says
(Bloomberg) -- MassRoots Inc., a company that runs a marijuana-rating app, believes a short-seller may have impersonated someone from the Securities and Exchange Commission on a conference call to sink its stock.
During the question-and-answer portion of a shareholder update Tuesday, a caller identified himself as "John Wallace from SEC Enforcement" and asked a series of questions, the Los Angeles-based company said in a regulatory filing Wednesday. The dialer pressed for information about sales and clients.
"Hello, I'm very curious to know the state of the revenue of this company, looking at the reported financials we don't see too much," the person said, according to a transcript of the call. "Do you have any paying clients now?"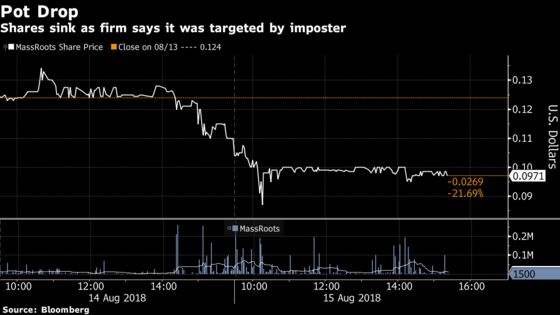 Shares of MassRoots have lost almost a quarter of their value in the past two days, bringing the total decline this year to nearly 85 percent. They tumbled as much as 22 percent alone Wednesday to around 9 cents apiece, the lowest level ever. Chief Executive Officer Isaac Dietrich said in a phone interview that the person on the call may have been a short-seller trying to catch him off guard and harm shareholders.
A rebuttal to the idea a short-seller is involved might be: What is there to short? The stock has traded at an average price of 30 cents in 2018 and closed Tuesday at 11 cents. Its market cap is $15 million, smaller than all but four companies in the 1,538-member Russell Microcap Index.
"It is shortable but very, very little activity," Ihor Dusaniwsky, a managing director at financial-analytics firm S3 Partners, said in a message. "It is very expensive to borrow."
MassRoots spoke with an SEC receptionist who said the agency doesn't employ anyone by the name of John Wallace, it said in the filing. The firm is still trying to unveil the caller's identity, Dietrich said. A spokesman from the SEC declined to comment.
The regulator has warned investors that con artists sometimes use the names of real SEC employees to trick victims into divulging private information. The agency doesn't make unsolicited phone calls to ask for detailed personal or financial data, it says on its website.
"The company has never received any communication from the Securities and Exchange Commission Division of Enforcement since inception, and, to its knowledge, is not the subject of any investigation by the Commission's Division of Enforcement," MassRoots said in the filing.
The firm had revenue of $1,492 in the first quarter, compared with $134,741 in the same period of 2017, according to its quarterly report from May.