IMF Approves $363 Million for Congo to Fight Covid-19 Pandemic
(Bloomberg) -- The International Monetary Fund will provide a $363.27 million loan to the Democratic Republic of Congo to fight an economic situation that is "deteriorating quickly" because of the Covid-19 pandemic.
The money, which was approved Wednesday by the IMF board, will help Congo manage falling revenues and increased spending needs due to the virus, which has claimed 25 lives and infected at least 359 people in the country thus far.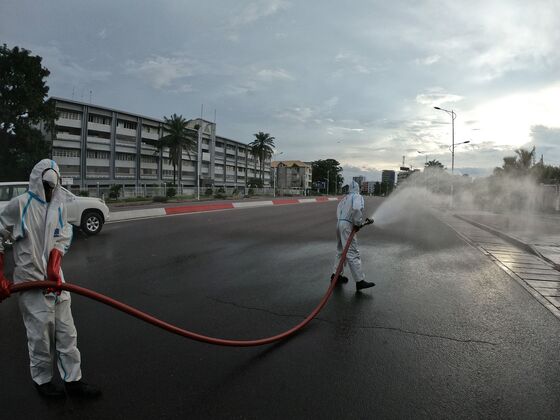 "DRC is experiencing a severe shock as a result of the Covid-19 pandemic," the IMF said in an emailed statement. "The short-term economic outlook has deteriorated quickly due to the fall of minerals' prices and the impact of needed containment and mitigation measures."
Congo is the world's largest source of cobalt and Africa's biggest copper producer and relies on mining for more than 95% of its export earnings. Last week, the IMF forecast the country's economy will contract 2.2% this year, compared with an October estimate of 3.9% growth.
The financing is Congo's second Rapid Credit Facility from the Washington, D.C.-based lender since December, when the IMF disbursed the same amount of money to prop up the country's falling reserves. Last week the IMF also canceled Congo's debt-service payments to the fund for six months, saving the country about $20.4 million.
Earlier this month the World Bank approved $47 million for the Covid-19 response in Congo, and the country can expect more money from development partners to address its budget deficit, the statement said.
Congo's government has committed to publishing monthly audits of Covid-19 related expenditures "to ensure transparency in the use of public funding," the IMF said.