If You Liked 2018 You Will Love 2019, Julius Baer Analysts Say
(Bloomberg) -- The year ahead is shaping up to be another that rewards opportunists.
With equity markets anything but smooth and volatility set to remain the new normal, European investors will be all the more in need of active market timing, Julius Baer chief strategist Christian Gattiker and chief economist David Kohl told reporters in Frankfurt.
The Swiss private bank expects robust global growth next year, with lower consensus estimates offering room for surprises. The recent slip in fundamentals is being driven by shortages of qualified workers and capacity, rather than any decline in demand. Positive effects on the market from U.S. tax reductions and deregulation will carry over into the start of 2019, and Kohl expects the Fed to stick to further rate increases, despite recent dovish signals.
"Markets are currently underestimating the inflation dynamic, and that real interest rates are just above zero, so we expect the Fed to raise rates three times next year," Kohl said, contrary to market expectations of only one increase.
The U.S. central bank may be less predictable next year, causing more ups and downs for equities. "There will be good opportunities to invest into equities but it will feel uncomfortable, and one will have to be much more agile to make money in these markets," Gattiker projected.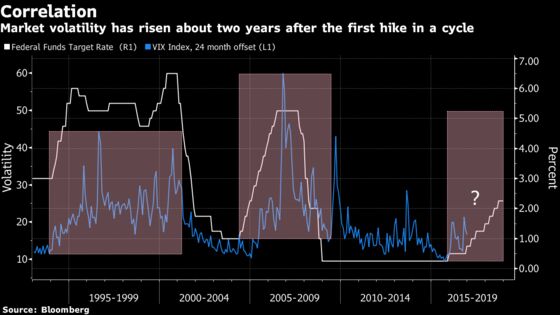 Quality stocks will be more important then ever, and investors should avoid companies with stretched balance sheets and aggressive refinancing. Swiss stocks are different, and a safe haven, Gattiker said. That's because Swiss companies have learned the hard way to remain profitable, despite an unfavorably strong currency.
A good place to invest next year might be in "shifting lifestyle" companies, with products related to digital health, so-called genomics 3.0, and life sciences tools. Avoid stocks with exposure to industrial automation and robotics, Gattiker added, pointing to expensive valuations.