If History's a Guide, Japan Stocks Are Set for an Election Rally
(Bloomberg) -- Prime Minister Fumio Kishida has so far done little to impress stock traders unnerved by talk of higher taxes. But if history repeats itself, the Japanese leader should expect to see shares take off soon as Japan prepares to go to the polls. 
The benchmark Topix tends to rise ahead of the formation of a new parliament, as expectations grow for fresh economic and financial stimulus. Kishida, who was appointed prime minister earlier this month, will dissolve parliament on Thursday and has called for a general election for Oct. 31. 
In the last five general elections, the Topix has risen an average of about 6.4% between the time the lower house was dissolved and voting day, according to Bloomberg calculations. In the three months after the dissolution, that gain was an average 15%, a rally most prominent when Shinzo Abe took power in 2012.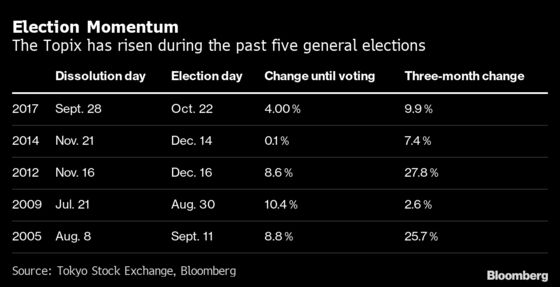 "The dissolution of parliament is a buy sign for Japanese stocks," said Eiji Kinouchi, chief technical analyst at Daiwa Securities Co. While investors may be inclined to stay sidelined, "the market is anticipating the dissolution will serve as a trigger for a turnaround in shares." 
Japanese equities have slid around 7% from a peak in September, spooked by global inflation concerns due to energy prices. Foreign selling resumed amid disappointment with Kishida's "new form of capitalism," which appeared to include an increase in capital gains tax. Those plans were quickly shelved. 
"Stocks are likely to rise as investors will welcome steps such as cash handouts and the resumption of the 'Go To Travel' campaign," said Makoto Sengoku, a market analyst at Tokai Tokyo Research Institute, referring to the travel subsidy shelved last year as Covid cases surged. 
Nonetheless, Kishida's low support rating doesn't bode well for the new cabinet. Hajime Sakai of Mito Securities Co. is among investors skeptical of an election rally, noting stocks are back where they began before the brief September surge fueled by former prime minister Yoshihide Suga's decision to step down. 
Sengoku remains optimistic, expecting foreign buying to resume as companies upgrade forecasts during earnings season. As for the election, "it'll be good enough if the ruling party wins more than half the seats," he said.