IEA's Oil Refining Data Offer a Less-Bearish Take on the Market
(Bloomberg) -- The International Energy Agency said on Tuesday that a rally in oil prices could soon be over. Its estimates on oil refineries' crude consumption offer a more bullish take.
The world's oil refineries will get through 80 million barrels a day of crude this month, up by almost 3% from October and well above quarterly averages for January-September, according to figures from the Paris-based adviser to energy consuming nations. Next month, daily processing rates are forecast to increase by 800,000 barrels more. 
To some extent, such increases are to be expected at this time of year, as refineries end maintenance programs. However, the IEA's data show that stockpiles of refined oil products are expected to decline this quarter, despite the increase in crude processing. That suggests supply-and-demand dynamics won't significantly deteriorate in the very near term.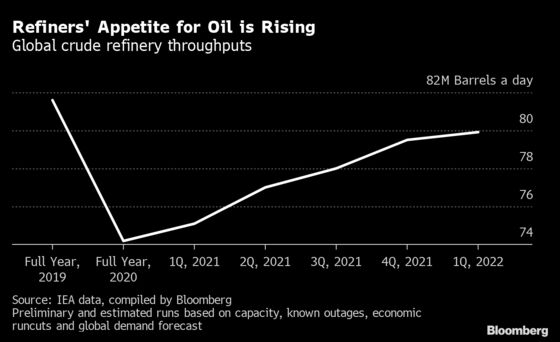 The IEA is likely looking further into the future to support its price view. Brent crude futures are now trading for January, while the largest chunk of open interest in West Texas Intermediate is also for January. And that's when, if the OPEC+ producer group pumps as planned, several agencies -- the IEA included -- start to see oil output beginning to surpass demand.