Iceland Cuts Power to Industry, Turns Away New Bitcoin Miners
(Bloomberg) -- A lack of power in Iceland has caused the island's main utility, Landsvirkjun, to reduce supplies to some industrial customers, such as aluminum smelters, data centers and fish meal factories, as well as turn away new Bitcoin miners.
Low hydro reservoir levels, a malfunction at a power station and a delay in obtaining power from an external producer led to the reduction, effective immediately, the company said on Tuesday. In addition to fish-feed plants, the reductions apply to large customers on curtailable short-term contracts. Record demand also played a part, said Tinna Traustadottir, executive vice president of sales and customer service at Landsvirkjun. 
Iceland's biggest electricity consumers are its giant smelters built decades ago to benefit from cheap power. They tend to secure their power supply for the long term, she said, adding that one aluminum customer "had a limited reduction in electricity supply." 
Aluminum is one of the most energy-intensive industrial metals to produce, and traders have been bracing for supply cuts as the regional energy crunch deepens. The smelters tend to have power contracts with other sellers and when their supply is reduced, they approach Landsvirkjun for short-term contracts that often contain clauses allowing supply to be curbed, Traustadottir said. "In the big picture this will have a limited effect" on the smelters, she said in an interview.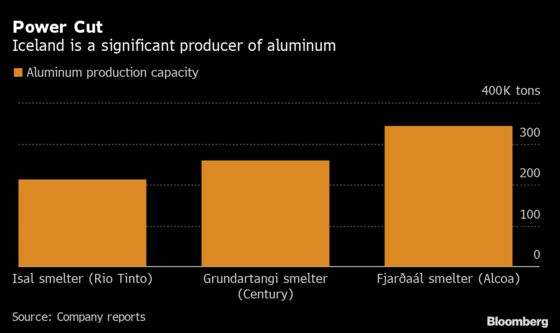 Aluminum prices reached a 13-year high in October as Chinese producers faced a supply crunch, and the renewed surge in power prices is creating fresh risks to supply in Europe. Aluminum prices rose 1.1% to $2,616.50 a ton on Tuesday.
A more recent entrant to Iceland's industrial landscape are cryptocurrency miners, lured in by the cheap electricity needed for mining new coins after demand and prices have skyrocketed. Despite recent volatility, in dollar terms Bitcoin is up more than 80% year to date, and hit an all-time high of almost $69,000 in November. Hive Blockchain Technologies Ltd. from Canada, Hong Kong-listed Genesis Mining Ltd. and Bitfury Holding BV are among companies that have set up shop in the country. All power-supply requests from new clients mining electronic coins are now rejected, Landsvirkjun said.
Landsvirkjun said limitations of the distribution system mean it's unable to serve load points in the southwest from the country's biggest power station, Karahnjukavirkjun, located in the eastern part of the country. Century Aluminum Co.'s Grundartangi and Rio Tinto Plc's smelter are both in the western area that's suffering shortages, while Alcoa Corp.'s Fjardaal plant sits in the East Fjords with ample power. 
"The reservoir levels in Iceland are relatively low, however we do not currently expect disruptions," Century said in an email.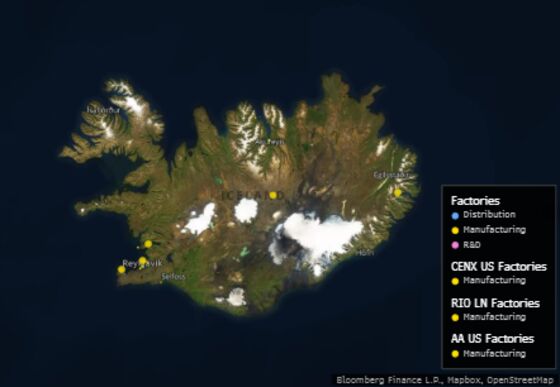 "We do not anticipate any significant issue at this juncture, as 90% of our power at Fjardaal is secured," Alcoa spokesman Jim Beck said. "We are monitoring the situation and staying in contact with our energy provider about the other 10% of our energy supply, which could potentially be reduced by half under certain circumstance and with appropriate notices."