Hwang's Insider-Trading Shackles Were Loosened by SEC Last April
(Bloomberg) -- Eleven months before his Archegos Capital Management blew up, Bill Hwang quietly got U.S. regulators to remove some of the shackles that had been placed on him years earlier as part of an insider-trading settlement.
Last April, the Securities and Exchange Commission lifted a ban on Hwang working at or running a securities firm. Though the ruling was little noticed at the time, it raises questions about whether the one-time star hedge fund trader was plotting some sort of comeback -- an effort likely derailed by the forced liquidation of more than $20 billion of stocks held by Archegos.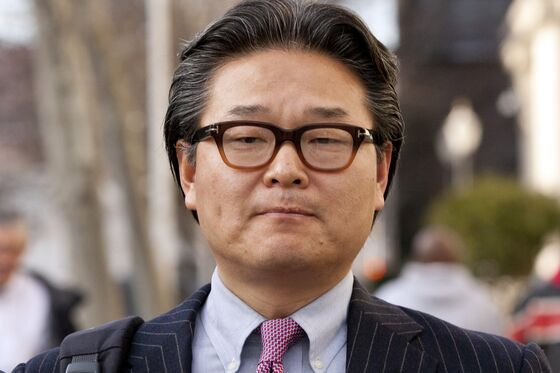 Hwang had been prohibited from associating with brokerages after his former firm, Tiger Asia Management, pleaded guilty in 2012 and paid more than $60 million in penalties for trading on illegal tips about Chinese banks. All four SEC commissioners approved the measure last year that removed the bar on Hwang having ties to municipal advisers, transfer agents and credit rating companies.
It's unclear why Hwang sought the break from the SEC because neither he nor Archegos, a family office, are listed as registered on BrokerCheck, an online database maintained by the Financial Industry Regulatory Authority. The SEC maintained its prohibition on Hwang managing money for clients, preventing him from getting back into the hedge fund game.
Hwang didn't respond to a request for comment, while an SEC spokesperson declined to comment.
The 2012 settlement didn't prohibit him from managing his own money, which is why he was permitted to set up Archegos. In recent years, he operated the New York-based firm in relative obscurity while making billion-dollar bets on companies including Baidu Inc. and ViacomCBS Inc. Last week, those wagers backfired, according to people familiar with the matter.
Hwang wasn't associated with a broker when he ran Tiger Asia, and a 2017 legal ruling restricted the SEC from banning individuals from industries they weren't part of in the years before lawmakers approved the Dodd-Frank Act. The SEC has been monitoring what happened with Archegos since last week, a spokesperson said.
Hwang is a protege of Tiger Management Chairman Julian Robertson. The so-called tiger cub struck out on his own and built Tiger Asia partly with money from his former boss. Hwang's multibillion-dollar Asia-focused hedge fund produced stellar returns until the insider-trading violations forced him to shutter it.