Henri Barrels Toward New England With Powerful Storm Surge
(Bloomberg) -- Henri's winds are weakening, but it remains a powerful tropical storm that will slam into New England and unleash flooding rains from New York to Boston.
Henri's top winds fell to 60 miles (95 kilometers) per hour, down from hurricane-strength of 75 mph earlier, as it swirled north about 50 miles from Providence, Rhode Island, the National Hurricane Center said in statement at 11 a.m. It's set to come ashore within hours along the Rhode Island-Connecticut border.
The storm is expected to raise ocean levels by some 3 to 5 feet (1 to 1.5 meters) from New York to the eastern tip of Cape Cod in Massachusetts, drop as much as 8 inches of rain from New Jersey north, and scour the area with tropical-storm strength winds.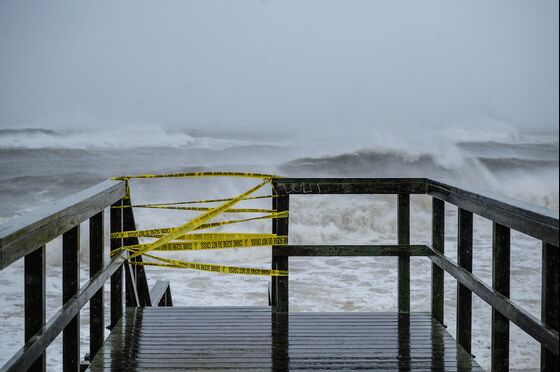 "There is major flooding potential for the Northeast," said Steve Silver, a meteorologist with Maxar. "The greatest risk for power outages will be in Connecticut, Rhode Island, and Massachusetts. Significant flooding is the biggest threat from the storm." 
Flooding has already been reported across the Northeast, disrupting transportation. Amtrak canceled trains between New York and Boston. Some subway tunnels were inundated in New York City. And about 1,000 flights were canceled as of 11 a.m., mostly in Boston and Newark, New Jersey, according to Flight Aware, an airline tracking service. 
New York Governor Andrew Cuomo on Saturday declared a state of emergency, and thousands of residents and holiday-makers evacuated beach communities -- or in some cases, opted to hunker down. A mandatory evacuation order was issued for some residents nearest the coast in Madison, Connecticut, across Long Island Sound. 
President Joe Biden approved emergency declarations for Rhode Island, Connecticut and New York and ordered federal assistance. He authorized the Department of Homeland Security and the Federal Emergency Management Agency to coordinate all disaster relief efforts. 
Biden held a call Saturday with governors from New York, New Jersey, Massachusetts, Connecticut and Rhode Island. 
The Coast Guard ordered ports in Southeastern New England to shut, and established a safety zone for the Port of Narragansett, Mount Hope, Buzzards Bay, and Cape Cod Bay. In New York and New Jersey, authorities will implement vessel traffic control measures and limit movement.
Henri is unlikely to produce anywhere near the $77 billion in damages that Superstorm Sandy caused in 2012, but it poses a significant threat to transportation and power networks, and is set to unleash potentially deadly storm surges.
Its tropical-strength winds reach out 125 miles, while Sandy was one of the largest storms recorded in the Atlantic ocean with hurricane-strength winds extending 175 miles from its center.
Utilities are bracing for power outages. Eversource Energy, which serves Connecticut and Massachusetts, said it's closely monitoring forecasts. Con Edison, which serves much of the New York City region, is "preparing for a worst-case scenario" and lining up 1,200 workers from other utilities to help restore service.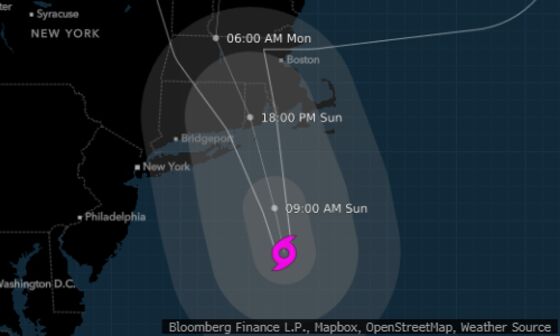 The winds, rain and surge damage could reach at least $1 billion in losses, said Chuck Watson, a disaster modeler with Enki Research. Many of those costs will be absorbed by residents, who will make repairs themselves or because the damage won't reach insurance deductibles. Insured losses will probably top out at $500 million, he said. 
Henri is the latest in a string of menacing events unfolding around the globe as climate change fuels extreme weather. Massive wildfires are ablaze in California, Greece, Algeria, France and elsewhere. July was the hottest month ever recorded on Earth.