Hunt for the Future Faangs Vaults Invesco ETF to $1 Billion Club
(Bloomberg) -- Investors chasing the next tech wave are driving a divergence in fortunes for two of Invesco's exchange-traded funds.
The Invesco NASDAQ Next Gen 100 ETF (ticker QQQJ) crossed the $1 billion-in-assets milestone last week, just four months after launching, according to data compiled by Bloomberg. It's absorbed roughly $343 million in inflows so far this year, while the $162 billion Invesco QQQ Trust Series 1 (ticker QQQ) -- the world's fifth-largest ETF -- has posted outflows of about $1.1 billion in 2021.
After a dominant performance in 2020 from the group of Faang stocks -- which includes giants such as Facebook Inc., Apple Inc. and Google's parent Alphabet Inc. -- investors are on the hunt for the tech rally's next leaders, said CFRA Research's Todd Rosenbluth. QQQJ is populated by mid-cap stocks that "may have potential to one day join the Nasdaq 100," according to Invesco's website.
"After the strong run for the megacap growth stocks in 2020, investors have sought the next wave of companies in 2021, many of which are found in QQQJ," said Rosenbluth, CFRA's director of ETF research. "Further, as the new ETF has grown in size, investors have more confidence in its liquidity."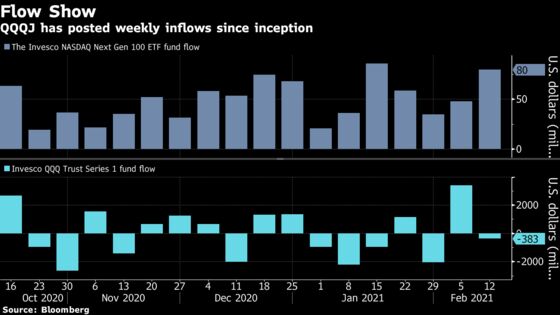 So far, those investors plowing money into QQQJ have been rewarded. The fund has soared 40% since its October low, compared with QQQ's 25% rally over that time period.
QQQJ's biggest holdings include Roku Inc. and CrowdStrike Holdings Inc., which have climbed 46% and 16% year-to-date, respectively. Meanwhile, Apple and Microsoft Corp., which are up 1.5% and 10% so far this year, are QQQ's largest weights.
With the march above $1 billion, QQQJ is joining a minority group in the $5.9 trillion ETF universe. About 500 of the 2,330 U.S. listed ETFs -- or 21% -- have over $1 billion in assets, according to data compiled by Bloomberg.
The bifurcation in QQQ and QQQJ reflects a broader cooling of demand for large-cap stocks, according to Chris Zaccarelli of Independent Advisor Alliance. That tilt can also be seen in the small-cap iShares Russell 2000 ETF (ticker IWM), which has absorbed $122 million year-to-date, while the $339 billion SPDR S&P 500 ETF Trust (ticker SPY) has shed about $8.9 billion in 2021.
"Investors have gone beyond the megatech rally of 2020 and have looked for companies further down the market-cap scale," said Zaccarelli, the firm's chief investment officer. "They are looking for more opportunities from outperformance from the up-and-comers than from the established players."