Hungry Leveraged Loan Buyers Pin Hopes on Busy M&A Pipeline
(Bloomberg) -- The take-private of BCA Marketplace Plc is set to be an early runner in the M&A financings that could make this month the year's busiest for leveraged loan issuance in Europe.
Out of a heavy autumn pipeline of loans and high-yield bonds, arrangers expect 10 billion euros ($11 billion) or more of acquisition-linked loans to head to syndication in the coming weeks.
The influx of new loans would go some way to redressing this year's persistent mismatch between supply and demand in Europe. At 43.5 billion euros, leveraged loan issuance is nearly 30% down from where it was a year ago, according to data compiled by Bloomberg.
Arranging banks also have borrowers lined up to improve terms on existing loans despite the busy acquisition scene. Launching promptly this week, Salt Mobile SA is raising loans as part of a move to replace outstanding bonds and pay a dividend.
Underwriters anticipate ample appetite to meet this new issuance thanks to cash-rich fund managers seeking higher yields and a thriving CLO market in need of assets. It's also welcome news for investors who like a market where they can pick from a variety of credit stories rather one dominated by small number of very large deals.
While it's doubtful that the next bout of loan supply will match the tally for 2018, new issuance of CLOs is running just ahead at 20.2 billion euros with a dozen or so new transactions in the works. Analysts at Barclays Bank Plc have raised their full-year forecast for CLO issuance to 30 billion euros, which would be a post-crisis record.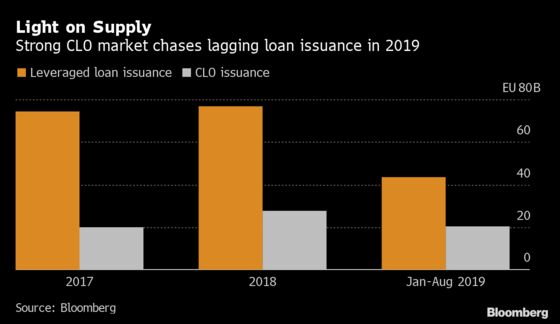 Loan fund managers have also seen inflows from pension and insurance funds, private wealth investors and others, including large Asian investors diversifying their mainly U.S. loan exposure by moving into Europe.
Another source of liquidity for the autumn's dealflow could come from repayments. Potential IPOs for Verallia SASU, TeamViewer GmbH and others could lead to outstanding loans being repaid, while an asset disposal by Nets A/S and the sale of Refinitiv Ltd may also put cash back in investors' pockets.
Lengthy M&A processes coupled with the potential for fresh macro-related volatility means the timing for many loan launches remains fluid, arrangers say, and issuers will be watching the early September market carefully.
Certainly the market ended August on a confident note, with a rally in secondary prices as per the S&P European Leveraged Loan Index, which has put the market on a sound footing for inbound borrowers.
But while managers are eager to invest, they are increasingly cautious about taking on overstretched risk for cyclical or low-rated borrowers. There is a strong bid despite macro risks, but it's not a time when anything goes, said one banker.
Behind BCA Marketplace, take-private financings including Merlin Entertainments Plc and Cobham Plc that will raise debt in the U.S. and European markets, along with smaller M&A transactions that will focus only on Europe.
Some anticipated M&A deals have fallen away. A loan-backed bid for Metro AG failed over the summer, and the sale of Osram Licht AG is in question. These are some of the known M&A financings that could launch in the autumn:
Merlin Entertainment: debt package includes EUR term loans worth EU1.4b
Parques Reunidos: term loan worth EU960m, potentially with USD portion
Axel Springer: term loan worth EU935m
Prisa: loan could be worth up to EU850m
Cobham: first-lien interim loan facilities in EUR/USD, worth GBP1.71b
Kantar: $3b debt financing expected to include loans/bonds in EUR/USD
CRH distribution unit: debt financing to support EU1.64b buyout by Blackstone
Further out in the pipeline is buyout financing for TDR Capital's GBP1.27b acquisition of EI Group
Others for September/October could include: Emera Group, ADCO, Atnahs, Solidus Solutions, Karro Group, Schleich
Read more: EU LEVFIN PIPELINE: Salt London Bank Meeting, GVC Lender Call
(Ruth McGavin is a leveraged finance strategist who writes for Bloomberg. The observations she makes are her own and not intended as investment advice.)