Tide Turning for Hong Kong Stocks at 50% Discount to S&P 500
(Bloomberg) -- Amid all the doubt surrounding Hong Kong's future as a global financial hub, one thing is certain: the city's stock market is an enticing target for the wave of cash that's returning to the world's equities.
Rarely has the valuation case for the city's shares been this compelling. Investors price the world's fourth-largest bourse like a frontier market, with uncertainty over Beijing's plans for a national security law the latest in a long list of concerns. The Hang Seng Index is about 50% cheaper than the S&P 500 on a price-to-earnings basis, the biggest discount since at least 2005. And even after adding 9.1% in June, it is still near the lowest level in 17 years versus MSCI Inc.'s global gauge.
As one of Asia's largest and most open equity markets, Hong Kong is typically sensitive to shifts in global liquidity. That could serve it well if a falling U.S. dollar and low interest rates help push sidelined cash into stocks. Jefferies said last week investors have sent $1.2 trillion to U.S. money market funds since February. Global allocation to cash recently hit the highest since 2001, Bank of America Corp. analysts wrote in April.
Successful share sales from some of China's high-flying companies this month are attracting capital from mainland investors, providing an anchor for the city's volatile market.
"The tide is turning for Hong Kong stocks," said Jackson Wong, asset management director at Amber Hill Capital Ltd. "It's still a good time to chase the rally."
Also helping boost international sentiment for Hong Kong is a strong local currency, which has defied expectations of capital flight to trade at the strongest it technically can. Hedge fund manager Kyle Bass, who has warned since last year that the Hong Kong dollar peg was at risk, is starting a fund that will make all-or-nothing bets on a collapse in the currency.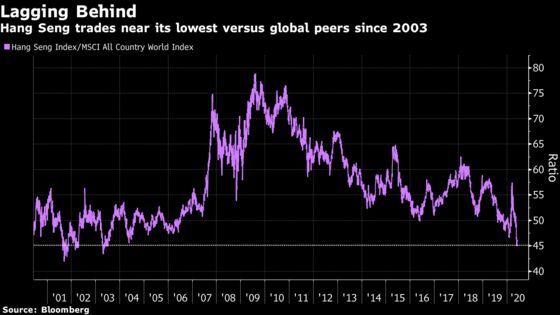 U.S. shares have added more than $10 trillion in value since their March lows, with excess also showing in the options market. That has pushed the S&P 500's price-to-earnings multiple near 23, compared with a ratio of just under 11 for the Hang Seng Index. The Hang Seng Index has breached its 100-day moving average in the past two session, only to fall below that level by the close.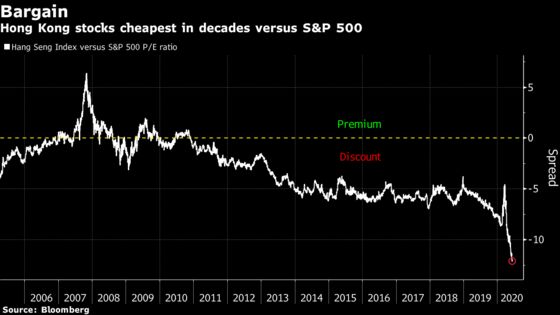 Speculators are unwinding their bearish bets, and demand to hedge against losses is dropping. This comes after short-selling volume on Hong Kong's main board climbed to 21% of total turnover on the final trading day of May, the highest proportion in data going back more than two decades. It accounted for about 15% of turnover on Wednesday.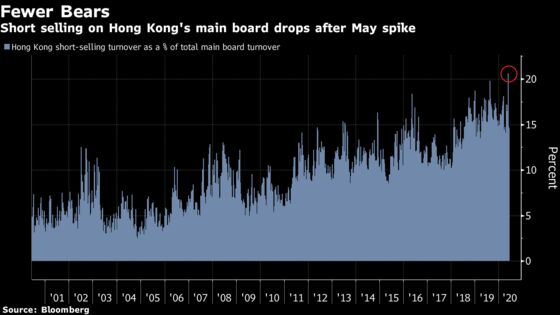 Nearly one third of Hang Seng Index members are flashing a buy signal, near the highest level in two months, according to a technical momentum indicator based on moving averages known as MACD. No stock is flashing a sell signal.