Huarong Trading Dwindles in Onshore Bond Market as Bids Vanish
(Bloomberg) -- Trading activity in China Huarong Asset Management Co.'s onshore bonds has shrunk as investors fail to agree on a price for the securities amid uncertainty over the company's future.
The level at which buyers are willing to buy is widely different from the price sellers are willing to sell, resulting in a wide bid-ask spread and low deal volume, according to dealers and investors with knowledge of the matter. The majority of offers to sell Huarong bonds ranged from 70 yuan to 80 yuan in recent weeks, said two of the people, who declined to be identified discussing market activity.
But one high-yield fund manager in Shanghai, who also asked to remain unnamed, said he has been posting bids at 50 yuan since mid-May but hasn't received offer prices in this range.
The gap illustrates how trading in the onshore market is too disjointed to calculate a true market value for Huarong bonds. Thin liquidity can also exacerbate volatility when trades are eventually executed, as seen in late May when a little-traded 2022 yuan note slumped 12% and another maturing in November dropped 24%. The spread makes it hard for bondholders to exit a large position if they're worried about the bonds, and likewise it's tough for potential investors to take a meaningful position in the debt.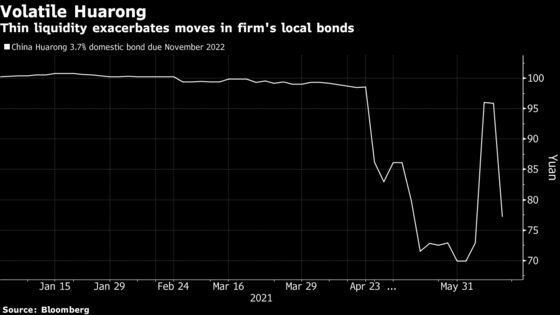 There's still little clarity over what steps the company will take to resolve its debt issues, and whether the state will continue to back it, although Huarong is at least close to filling its empty president role.
Traders said there were no bids at all for Huarong onshore bonds on Tuesday, as of 11 a.m. local time.
Offshore, trading has been much more liquid, and volatile. China Huarong's 4% perpetual dollar bond last traded at 65 cents on the dollar, having fallen to as low as 48 cents last month from 102 cents in late March.
A wide bid-ask spread may also suggest dealers see a high risk in executing the trades. That may be due to a perception that the price of Huarong bonds could change quickly, resulting in a reluctance to budge on price by both sellers and bidders.
One way to gauge the market value of Huarong's onshore bonds is to look at China's pledged repo market, where debt linked to the company is used to secure short-term funding. In late May, borrowers putting up a Huarong Securities 2023 bond for collateral got just 40% of the note's face value as cash, down from 91% at the start of April, according to China Securities Depository and Clearing Corp. data.
Either way, the lack of trading in onshore notes has made it hard to value them.
"Some of China Huarong's onshore senior unsecured bonds have been traded at a discount, though trading volume is low and the price levels are not as meaningful as they otherwise would be," S&P Global credit analysts led by Manqi Xie and Harry Hu wrote in a note last week.