Huarong Ex-Chairman Accused of Taking $240 Million Bribes
(Bloomberg) -- Lai Xiaomin, the former chairman of China Huarong Asset Management Co. who was arrested this week, is accused of taking 1.65 billion yuan ($240 million) in bribes, according to people familiar with the matter.
Lai's case was discussed among top officials from the central bank and the banking regulator at the end of October, said the people, who asked not to be named discussing private deliberations. Investigators have also found that Lai owned 34 properties, three of the people said. The final amount of bribes Lai is determined to have taken could change.
Huarong officials didn't reply to an email seeking comment, and the China Banking and Insurance Regulatory Commission didn't immediately respond to a fax seeking comment. Lai himself couldn't be reached. Following his arrest, he will face trial before a provincial court in the city of Tianjin, though no hearing date has been set.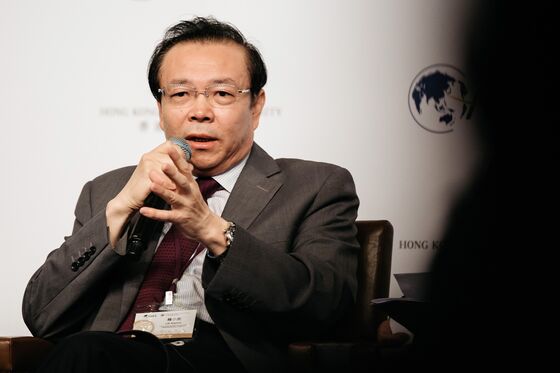 Chinese authorities have been taking an increasingly tough stance on corporate malfeasance, broadening President Xi Jinping's corruption crackdown into the nation's boardrooms. As party chief and chairman of state-owned Huarong, Lai was a public official. Private businessmen have also found themselves in the crosshairs, most notably former Anbang Insurance Group Co. chairman Wu Xiaohui, who was sentenced to 18 years in prison in May for fund-raising fraud and embezzlement.
Lai wouldn't be the first government employee to be charged with taking bribes totaling 1 billion yuan or more. Zhang Zhongsheng, a former vice mayor of a city in China's Shanxi province, was sentenced to death by a provincial court in March for amassing bribes of that amount.
Notable Figures Sentenced for Financial Corruption This Year
| | | | |
| --- | --- | --- | --- |
| Name | Role | Charges | Sentence |
| Yang Jiacai   | Former assistant chairman at China Banking Regulatory Commission | 23 million yuan in bribes and 31.6 million yuan unaccounted for wealth | 16 years |
| Yao Gang | Former vice chairman of China Securities Regulatory Commission | 70 million yuan in bribes and 2.1 million yuan in illicit gains from insider trading | 18 years |
| Wu Xiaohui | Former chairman of Anbang Insurance Group Co. | Masterminding a 65.2 billion yuan fraud | 18 years |
Authorities said in April that they were investigating Lai for alleged disciplinary and legal violations, language that's typically used in corruption cases. He took over as chairman of Huarong in 2012, and ran it until earlier this year. Under his watch, assets ballooned sixfold to reach 1.87 trillion yuan in December, according to data compiled by Bloomberg.
Lai, who previously worked at the central bank and China's banking regulator, used his position at Huarong to "give benefits to others in exchange for taking bribes, and illegally possessed state-owned assets," according to an official statement last month. He also made major corporate decisions without following rules and "interfered" in projects, the statement said.
Lai's "shocking" activities led to severe losses of state-owned financial assets, and undermined the nation's financial security and stability, the People's Bank of China said in a statement on Wednesday.
Huarong was one of four companies set up by the government in 1999 to help clean up a banking system riddled with bad debt. The state-owned enterprise held a $2.5 billion initial share sale in 2015 that gave it a market value of more than $15 billion. Its Hong Kong shares are now worth half that, and in September it withdrew plans for a listing in China.