HSBC Says Global Tensions Mean Uncertainty After Profit Miss
(Bloomberg) -- HSBC Holdings Plc is bracing for riskier times after missing fourth-quarter earnings estimates, warning that political tensions in its key markets have made the prognosis for 2019 far less predictable.
Chief Executive Officer John Flint has vowed to keep a keener eye on costs while avoiding additional payouts to shareholders, after a disappointing quarter capped his first year in charge of Europe's largest bank. Like its rivals, HSBC, which gets most of its business in Asia, was hit by the meltdown in financial markets, which pushed investment bank revenues lower. Its shares fell 4.3 percent in London trading, the most in about a year.
"There are more risks to global economic growth than this time last year, and we remain alive and responsive to all possibilities," Chairman Mark Tucker said. "The system of global trade remains subject to political pressure, and differences between China and the U.S. will likely continue to inform sentiment in 2019."
Pressure is also growing on HSBC's management to improve returns by repurchasing stock, and the bank said it's committed to its previous policy of returning capital to shareholders. However, HSBC stopped short of announcing a new buyback program, which analysts at Jefferies called a "notable disappointment."
"Prospects for enhanced capital repatriation against slower growth prospects have formed the key part of our constructive stance," the Jefferies analysts, including Joseph Dickerson, said in a note. "This aspect of our thesis is clearly not playing out."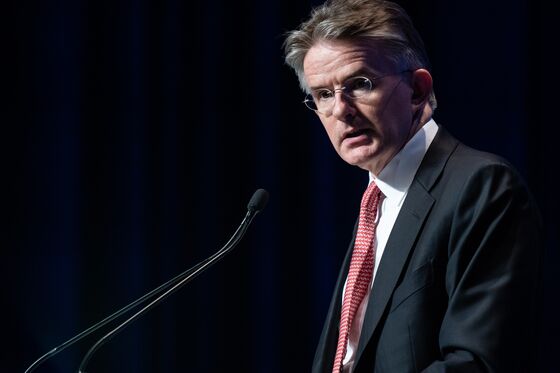 "We are clearly going to moderate the pace of some of our investment," Flint also said in an interview, though he didn't provide details, saying the bank is "still having those conversations." HSBC won't have to resort to any major job cuts to keep a lid on expenses, he said.
The CEO later said on a call with journalists that HSBC plans further disposals of select parts of its world-wide network. He didn't provide specifics.
Adjusted pretax profit, which excludes one-time items, fell 1 percent to $3.39 billion in the three months ended Dec. 31, missing the $4.4 billion consensus average derived from estimates compiled by the bank. Global markets, which houses HSBC's investment bank, said adjusted revenue was $1.1 billion, an approximate 16 percent decline from the final three months of 2017.
Flint vowed to slow spending as he seeks to deliver on a key promise to shareholders: That revenue gains outpace cost increases, a trend HSBC refers to as positive jaws. He failed to achieve that in his first year at the helm, in part because of the fourth-quarter equities meltdown that also inflicted pain on the bank's biggest rivals, including UBS Group AG. HSBC said it's committed to achieving positive jaws this year.
In a statement issued with the earnings, HSBC said it was sticking to the targets it announced in June. Among those targets for 2020:
Accelerate growth from Asia by achieving high single-digit revenue increases each year
Turn around its U.S. business with a more than 6 percent return on average tangible equity
Complete set up of U.K. ring-fenced bank; grow mortgage market share and commercial customer base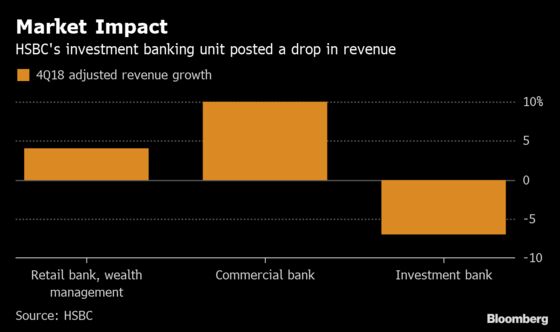 HSBC switched CEOs last year, elevating Flint to replace Stuart Gulliver, bringing to an end a seven-year term marked by asset sales, job cuts and a pivot toward Asia.
The bank also increased its Brexit-related provision by $165 million, taking the total set aside by the bank against the potential cost of disruption caused by the U.K.'s withdrawal from the European Union to around $400 million. Chief Financial Officer Ewen Stevenson said the lender might increase the charge further if there was a "harder Brexit."