HSBC's Shares Surge as Bank Shows Progress Taming Its Costs
(Bloomberg) -- HSBC Holdings Plc Chief Executive Officer John Flint delivered the kind of growth that investors have been waiting for.
Flint, who took over this year, succeeded in posting third-quarter revenue gains that outpaced expenses: adjusted revenue climbed 9 percent while costs increased 2 percent. The shares in Hong Kong jumped after falling close to a two-year low last week.
The performance bolsters Flint's case that he can deliver profit growth for HSBC while spending billions of dollars on an expansion into key Asian markets and technology upgrades. Flint also said the bank's appetite to do business in other geographies including Saudi Arabia remains unchanged despite the recent controversy over the murder of journalist Jamal Khashoggi.
HSBC's growth is broad-based and is "coming from a rising top line rather than simply cost-cutting, which can only deliver results for so long," said Laith Khalaf, senior analyst at Hargreaves Lansdown. "HSBC may be the second biggest company on the U.K. stock market, but its profits are predominantly emanating from its historic home in the Far East."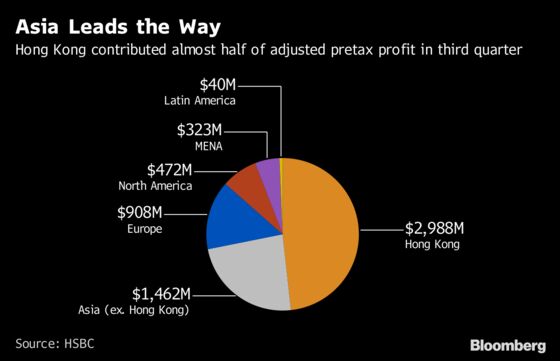 HSBC's Hong Kong shares rose as much as 5.6 percent after the announcement, and were up 5 percent at 3:42 p.m. local time. HSBC shares in London also climbed 5 percent in early morning trade.
Adjusted pretax profit at HSBC's global banking and markets unit increased 21 percent to $1.8 billion in the third quarter, compared with the $1.6 billion average estimate of analysts surveyed by Bloomberg. HSBC has been making some changes at its investment bank and hired former top JPMorgan Chase & Co. banker Greg Guyett to jointly run the global banking division.
"We had a little bit of difficult press around that business and some of that suggested that there was something wrong with the strategy," Finance Director Iain Mackay said in a phone interview Monday. "It's actually performing. We had a strong third quarter and just above everybody else."
HSBC's Earnings Highlights
| | |
| --- | --- |
| Adjusted pretax profit up 16% to $6.19 billion versus average estimate of $5.73 billion | Adjusted revenue rose 9% to $13.84 billion versus average estimate of $13.68 billion |
| Adjusted pretax profit at global banking & markets unit rose 21% to $1.8 billion | Retail banking & wealth management adjusted profit increased 25% to $2.1 billion |
| Expected credit losses rose 13 percent to $507 million | Return on equity in the first nine months was 9 percent, compared with 8.2 percent in the year-ago period |
Flint, who replaced Stuart Gulliver as CEO earlier this year, is pushing his strategy along with Chairman Mark Tucker, who joined in late 2017. The new team wants to build out its presence in Hong Kong and China's Pearl River Delta region. The lender is planning a hiring spree for its Asian wealth-management business and reiterated that listing the bank in mainland China is an opportunity it's exploring.