HSBC's Flint Zeroes in on Cost Cuts After Profit Beat
HSBC Holdings Plc Chief Executive Officer John Flint is pressing ahead with a plan to rein in costs after the Asia-focused lender reported its best quarter in more than three years.
The better-than-expected first quarter results were driven by revenue growth that increased at triple the pace of adjusted operating expenses, reversing a pattern that bedeviled Flint in 2018. HSBC made 80 percent of its profit in Asia, while Europe accounted for about 1 percent, highlighting the importance of Hong Kong and China to its earnings.
"These are an encouraging set of results, and we remain focused on executing the strategy we outlined last June," Flint said in a statement, noting the uncertain outlook for the global economy. "We are proactively managing costs and investment."
The bank's shares climbed 3 percent at 11:14 a.m. in London, the most since December.
Keeping the top line growing faster than expenses, known in banking jargon as "positive jaws," has been a key focus for Flint as he seeks to put his stamp on the bank. The CEO berated his most senior managers in March for missing cost targets, people with knowledge of the matter have said.
HSBC's adjusted pretax profit rose 9.5 percent in the first quarter to $6.35 billion, versus the $5.69 billion consensus estimate of 16 analysts compiled by the bank. Adjusted revenue rose 9 percent, also ahead of estimates.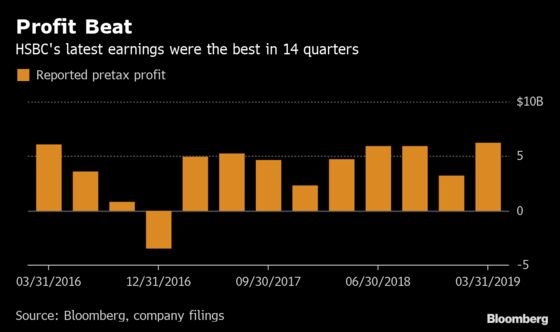 Europe's biggest lender has faced questions over its strategy since it failed to deliver on a pledge to deliver positive jaws in 2018. The London-based bank elevated Flint last year to replace Stuart Gulliver, bringing to an end a seven-year term marked by asset sales, job cuts and a pivot toward Asia. Since Flint took over in February of last year, the shares are down about 10 percent.
HSBC is still investing heavily in technology including a new global mobile platform for its retail network, although it warned that its ongoing U.S. turnaround plan is the biggest strategic challenge for the lender.
Chief Financial Officer Ewen Stevenson said HSBC was in talks with U.S. regulators as part of their annual stress tests to repatriate a "significant amount of surplus capital" from the bank's American business. "We would expect to get some out this year," Stevenson said on a call with reporters. Any capital redeployment would not affect the lender's plans for share buybacks or dividends, he added.
The results were HSBC's biggest reported profit in 14 quarters, Stevenson said in an earlier interview with Bloomberg Television. He also said much of the first-quarter cost increase was driven by investments in digital banking.
"There is much to like about HSBC, particularly in the context of a demanding U.K. outlook," said analysts at Keefe, Bruyette & Woods.
HSBC's investment bank, which sits under global banking and markets, booked revenues which rose 3 percent year-on-year to $4.1 billion driven by its cash management and transaction banking units. Markets revenues were down 5 percent, largely as a result of poorer performances in its credit and equities businesses.
Adjusted revenue from retail banking and wealth management rose 10 percent from a year earlier
Commercial-banking revenue increased 11 percent
Investment rose 15 percent to $1 billion in the quarter
Reported revenue from Asia increased 7 percent
Bank will announce share buyback decision at the half-year
CFO Stevenson also said that he thinks the bank should be able to continue positive jaws for the rest of the year, adding that the firm is more cautious on the U.K. than "probably" any other jurisdiction because of uncertainties surrounding Brexit.